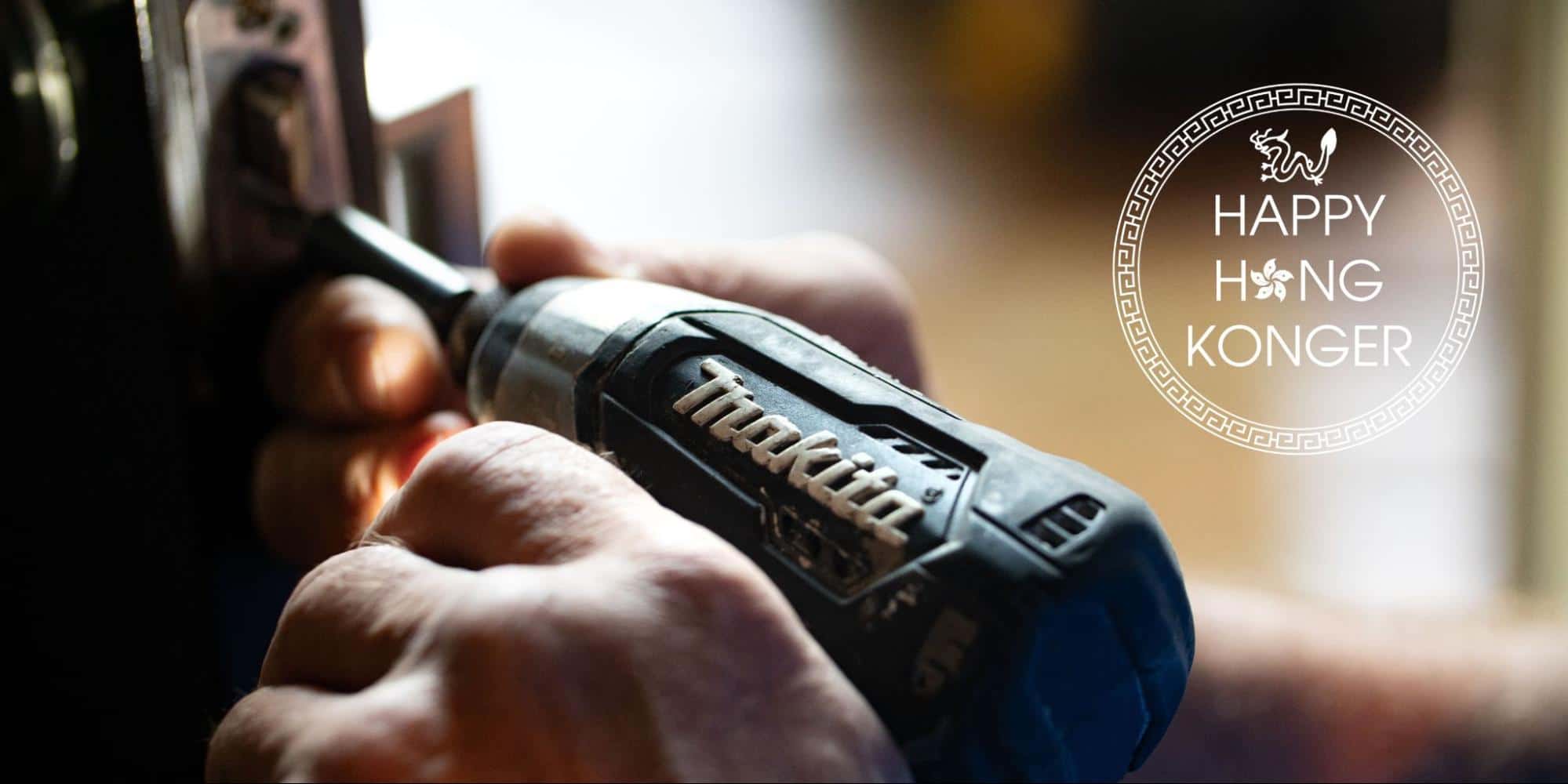 Top 6 Handyman Services in Hong Kong
How We Picked
1. Dr. Fix It All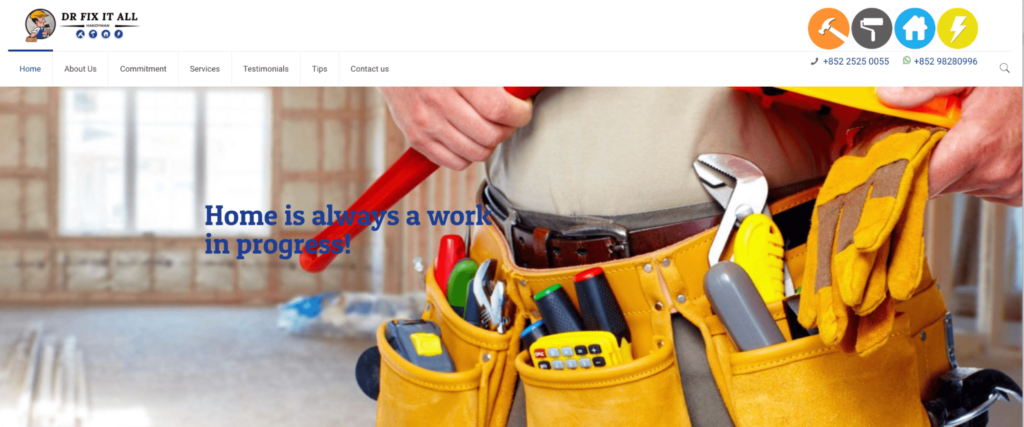 Services: Moving, packing, handyman (home repairs, remodelling, drywall services, light and ceiling fan installation, flooring), storage, decoration, furniture
Website: http://www.drfixitall.hk/
Address: Room 301, Wing Fu Building, 18-20 Wing Kut St, Central, Hong Kong
Contact details: +852 2525 0055
Business hours: Open 24 hours
| | |
| --- | --- |
| Google reviews score | 5/5 |
| Facebook reviews score | 4/5 |
| Total reviews | 4/5 |
| Score consistency | 5/5 |
| | |
| --- | --- |
| Cost | 4/5 |
| Customer service | 5/5 |
| Range of services | 5/5 |
| Materials | 5/5 |
Fast and efficient service
Great communication skills from each worker
Very professional and polite
Fair pricing, no hidden fees
Can be unresponsive when they're low on workers
Dr. Fix It All takes on a range of odd jobs from unclogging sinks and hanging pictures to renovation and household repair and maintenance.
The company has been operating since 2004, serving Hong Kong Island and Kowloon as a professional handyman and moving company.
They provide dependable and skilled craftsmen that we find to be very reliable. Their team works efficiently so that each job is done within a short amount of time.
Not only that, they also provide excellent communication through WhatsApp prior to getting the job started.
Their staff are mostly fluent in English, making things much easier. They're also very easy to pick up on specific instructions around each client's house.
As for their moving services, they've also gotten similar reviews, where clients commend them for their professionalism and capability.
In addition, their workmen are always on time and usually call in advance to confirm when they are arriving, which we greatly appreciated.
All in all, their good communication and prompt service makes them a handyman service that we consider as one of our first choices should we need some repairs done.
Reliable, professional, and helpful – we were very satisfied with their work and we will continue to seek their services.
2. Indo Handyman Hong Kong

Services: Electrical, furniture assembling and repair, mounting and installation, mini makeover and tune upin, painting and wall repair, curtain railing and venetian blinds
Website: http://www.indohandyman.hk/
Address: 25 Bonham Rd, Central, Hong Kong
Contact details: +852 2578 1865
Business hours: Open 24 hours
| | |
| --- | --- |
| Google reviews score | 5/5 |
| Facebook reviews score | 5/5 |
| Total reviews | 5/5 |
| Score consistency | 5/5 |
| | |
| --- | --- |
| Cost | 5/5 |
| Customer service | 5/5 |
| Range of services | 5/5 |
| Materials | 5/5 |
Provides free quote through their website
Most recommended for their painting services
Very careful with floorings and walls of clients
Staff are fluent in English
No price information on their website
If painting's a task you can't get around to doing, Indo Handyman has it covered among their services, and they've received quite a number of good reviews on their painting capabilities.
While they're very skillful with the brush, they're also very good at smaller, mundane tasks that some contractors won't take up.
Most of their clients are returning customers that go to them for their services, endorsing them for their efficient and exceptionally punctual workers.
While working onsite, it's very noticeable how their workers are extremely mindful of the walls and floor, which is something a lot of their clients appreciate, since there are quite a few complaints about other handymen damaging fixtures while doing repairs, ironically.
On another note, the team speaks English fluently and are very professional, and it's easy getting through to them via email or call.
Booking an appointment with them was no hassle at all, and they even provide free quotes through their website.
Although there isn't much information about the company's origins or how long they've been in business, Indo Handyman definitely has the experience and skills needed to complete odd jobs.
With a stable clientele that's been coming back for their services, Indo Handyman is definitely a commendable company that can provide what their clients ask for.
3. HelloJack!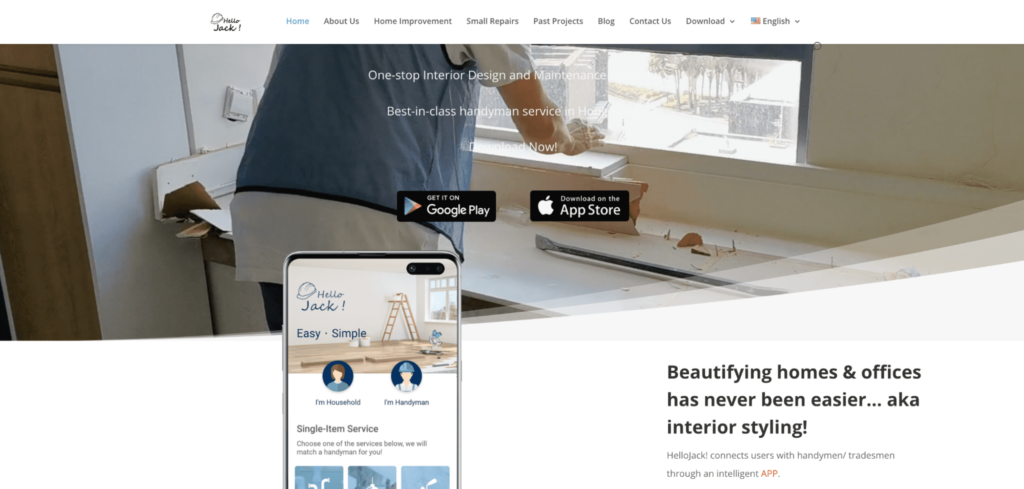 Services: Home improvement, small repairs
Website: https://hellojack.com.hk/en/
Address: Silvercorp International Tower, Flat C, 17/F, 713 Nathan Rd, Mong Kok, Hong Kong
Contact details: +852 2345 2999
Business hours: Open 24 hours
| | |
| --- | --- |
| Google reviews score | 4/5 |
| Facebook reviews score | 4/5 |
| Total reviews | 4/5 |
| Score consistency | 4/5 |
| | |
| --- | --- |
| Cost | 4/5 |
| Customer service | 5/5 |
| Range of services | 5/5 |
| Materials | 5/5 |
"The Iron Triangle" company philosophy
Quality assurance procedure is really a plus
Fair price upfront, no hidden fees
Slight language barrier for English speakers
App still needs improvement
HelloJack! is mainly an interior design and handyman service provider in Hong Kong, but what really sets them apart from others is the owner's passion for the trade.
Philip Leung Shu-kai, or Phil, is a former corporate executive who found his passion in interior design and maintenance services. One of his most recent works is the HelloJack! App.
The company was initially composed of architects, interior designers, contractors, and handymen, as well as other fieldmen.
Recently, they've taken in app designers and developers to develop the HelloJack! application, where we can access their services just like we're ordering food from Foodpanda.
While their mobile app is helpful, their onhand services are also of the highest standards in Hong Kong. Their services range from fixing a leaky tap to a full-on home remodelling.
True to their philosophy of "The Iron Triangle – timeliness, insurance coverage, quality assurance program," each work is done systematically and with mitigated risks.
One of the main issues that handyman service providers face is the lack of insurance coverage, but that's one less thing to worry about with HelloJack!.
As homeowners we can breathe easy knowing that they also have a quality assurance procedure in place to ensure that each work has been done accordingly and with no slip-ups.
4. Papabo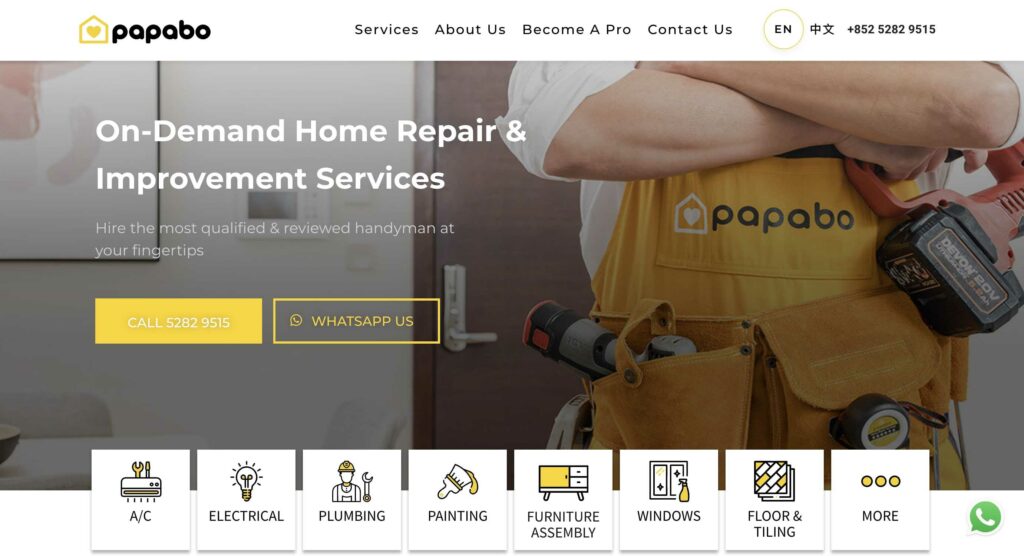 Services: Air conditioning, plumbing, electrical, painting, windows, flooring and tiling, woodwork, CCTV, scaffolding,renovation, waterproofing
Website: https://www.papabo.hk/
Address: 3 Prince's Terrace, Mid-Level, Central
Contact details: +852 5282 9515
Business hours:
Saturday Closed
Sunday Closed
Monday 9:30AM–6:30PM
Tuesday 9:30AM–6:30PM
Wednesday 9:30AM–6:30PM
Thursday 9:30AM–6:30PM
Friday 9:30AM–6:30PM
| | |
| --- | --- |
| Google reviews score | 5/5 |
| Facebook reviews score | 5/5 |
| Total reviews | 5/5 |
| Score consistency | 5/5 |
| | |
| --- | --- |
| Cost | 5/5 |
| Customer service | 5/5 |
| Range of services | 5/5 |
| Materials | 5/5 |
Transparent, fixed pricing
Free quote via the mobile app or WhatsApp
Live job tracking
Punctual and professional handymen
Can get quite laggy in responding during peak season
Papabo is one of Hong Kong's leading home repair service companies, largely because of their highly reliable and cost-effective services.
They operate all over Hong Kong, and they can come over within a few hours and have your needed service done in just a day.
Papabo also has a mobile app that's very handy to use, especially when you need a repair ASAP. After selecting what kind of jobs you need done, you get a quote for it instantly, with no hidden fees.
One of the most notable features of their app is the live-tracking, where we get to track their handyman's dispatch and job activity in real-time.
We're really loving the transparency and supervision that comes with the app, and it allows us to see how the repair is being done, from start up to its completion.
On another note, the service itself is also very notable. Their handymen were very punctual, arriving just on time and getting to work right away so the job could be finished in a short period.
Nevertheless, the work didn't feel rushed, and more often than not, they always do a great job, which is something that previous and continuing clients can say as well.
5. ACE Handyman

Services: AC cleaning and installation, ceiling installation, bathtub installation, CCTV, carpentry work, drain unclogging/pipe replacement, welding, window replacement, etc.
Website: https://www.acehandyman.hk/
Contact details: +852 9078 1918
Business hours: Open 24 hours
| | |
| --- | --- |
| Google reviews score | 5/5 |
| Facebook reviews score | 5/5 |
| Total reviews | 5/5 |
| Score consistency | 5/5 |
| | |
| --- | --- |
| Cost | 4/5 |
| Customer service | 5/5 |
| Range of services | 5/5 |
| Materials | 5/5 |
Services are available 24/7
Offers cheap rates
Friendly and professional workmen
Could make messaging more accessible other than WhatsApp
For a hassle-free and immediate repair, we turn to ACE Handyman for being a dependable handyman that's available just when we need them every time.
Their scope of work includes carpentry work, air conditioner cleaning and repair, unclogging drains and toilets, and septic tank suction and cleaning services among a wide range of others.
They also provide professional movers, whether it's just moving a piece of furniture or relocating an entire home altogether.
We like how they are very prompt when responding to queries via WhatsApp, but they can be quite slower when contacted through their website.
Nevertheless, even without being too tech savvy with their marketing, they do a great job with their services.
Their workmen always arrive just on time, not too early or too late. And they're very friendly and always get the job done.
They're very thorough with their work, and they always put extra care when handling delicate things such as expensive furniture or fixtures.
When it comes to pricing, they also offer the cheapest rates in Hong Kong as noted by a few of their previous clients.
Overall, we like ACE Handyman for being a fuss-free and dependable handyman service in Hong Kong.
6. Interior Painting & Handyman Service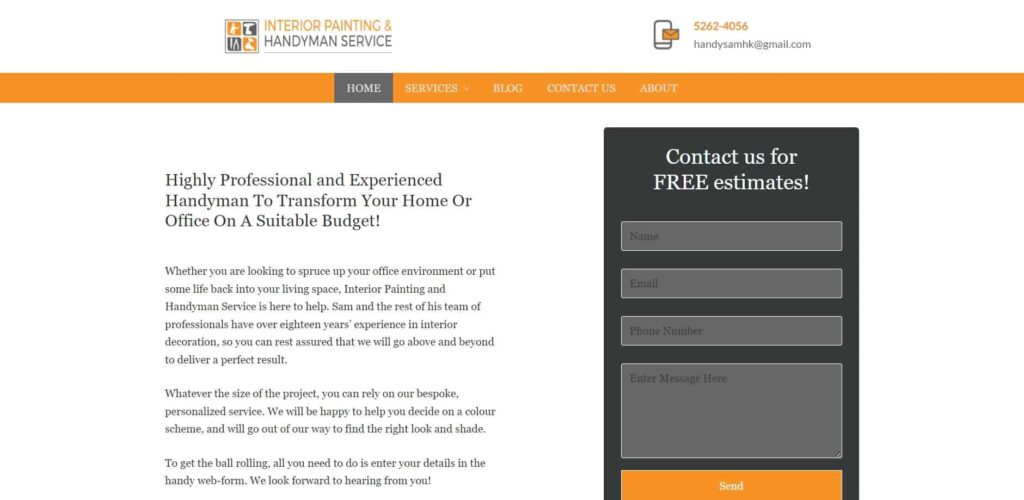 Services: Interior Painting, Wallpaper Installations, Tiles Installation, Hardwood Flooring, Flooring Repairs & Restoration, Home/Office Moving, Laminate Flooring, Miscellaneous Work
Website: https://iphservice.com/
Address: Flat 21, 2nd Floor, Man Yuen Building 21, Man Yuen Street, Jordan, Kowloon
Contact details: +852 5262 4056 / [email protected]
Business hours:
Monday – Friday: 8:00AM – 7:00PM
Saturday: 8:00AM – 2:00PM
| | |
| --- | --- |
| Google reviews score | N/A |
| Facebook reviews score | 5/5 |
| Total reviews | 4/5 |
| Score consistency | 4/5 |
| | |
| --- | --- |
| Cost | 4/5 |
| Customer service | 5/5 |
| Range of services | 5/5 |
| Materials | 5/5 |
Extensively experienced in the field
Offers a free estimate for new clients
Versatile and comprehensive services delivered
Rates of their services aren't readily available
Website has pop-up ads
Interior Painting & Handyman Service is a company that offers a wide range of quality handyman services ideal for various types of homes and interrelated concerns as well. From interior painting to tiles installation, they are among the top-rated handyman companies in the country due to their versatile and comprehensive services.
Past clients have commended them for their steadfast and proactive approach to customer service and efficient handyman jobs that always finishes on time that they promise.
Furthermore, they bring over 18 years of experience in the field to every service they offer in inclusive packages and cost-efficient approaches to help property owners stay within their budget.
Note though that their rates aren't readily available on their website clients may need to contact them for a free estimate and have an accurate list of fees that they may charge.
Nonetheless, with their excellent and multidisciplinary team of technicians, quality and bespoke equipment and materials used, and versatile approach to their services, we highly recommend them to clients in the area looking for such services.
FAQs about handyman services in Hong Kong