Categories >
Guides and Tips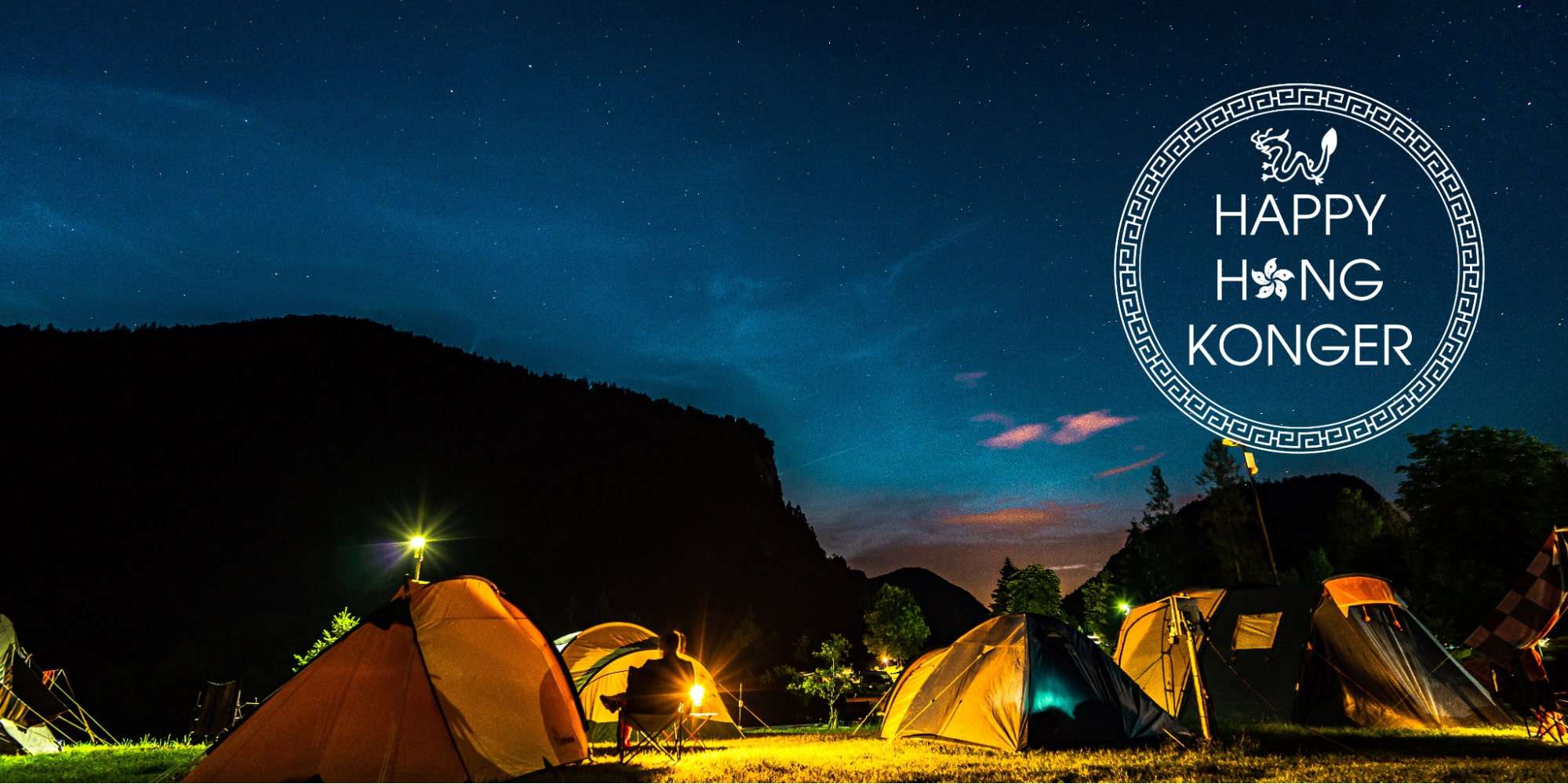 Camping in Hong Kong
Missing the woods and getting tired of concrete? Hong Kong has pristine beaches and outdoor spots that are just the perfect getaway for days that you want some peace and quiet.
While life in the city is pleasant in itself, communing with nature for a short while can really do wonders for our wellness, both physically and mentally.
Sometimes getting to a campsite takes hours of hiking, in which case you might need to do some endurance training and other exercises to make sure you're fit enough for the trek.
Whether you're a first-time camper or an adventurous sport, there's always a campsite for everyone, even handicapped individuals. This compilation of Hong Kong's top campsites will serve as your guide.
We've included information on the size of every campsite, directions to get there, what you'll be seeing, and whether it's suitable for beginners or expert campers.
Of course, camping rules and regulations are also taken into account as well as camping equipment, so keep this guide in mind when you're about to step into the wilderness.
Top Camping Spots in Hong Kong
To get in touch with nature, you can go wild camping in designated campsites or you can go for a holiday camp when you want to take a few days off the stress of city life.
Campsites in every location are typically categorised into three size classes (small, medium, large) with reference to the number of potential tent space, and this is largely based on the approximate size of a 4-person tent.
Here is a list of campsites designated by the Hong Kong Agricultural, Fisheries and Conservation Department:
Lau Shui Heung Campsite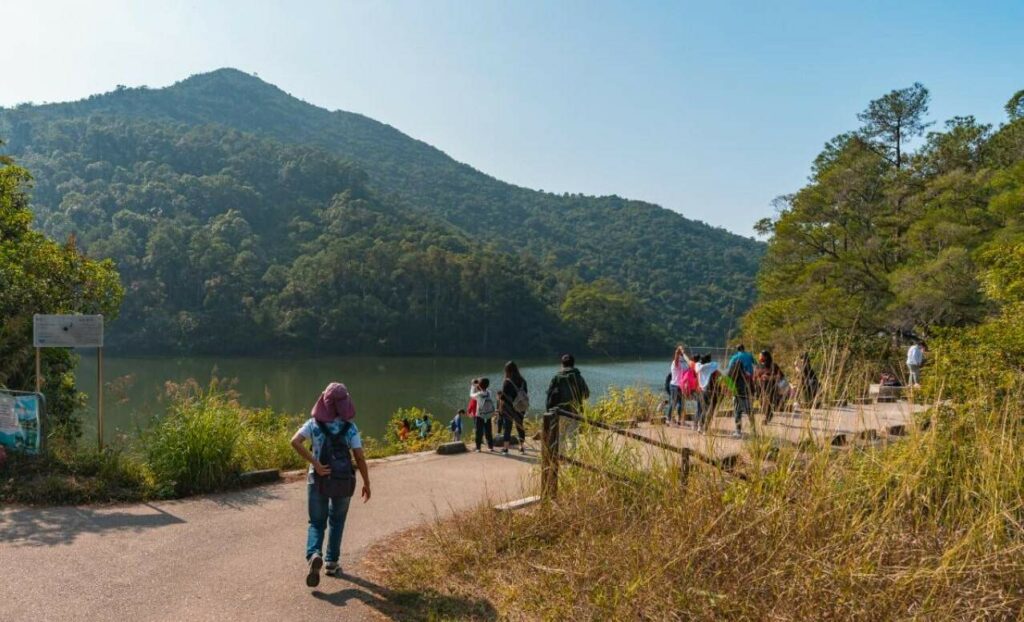 Location: Lau Shui Heung, Pat Sin Leng Country Park
Campsite Size: Small
Found on the western slope of Shek Au Shan at the south end of Lau Shui Heung Reservoir, the camping area in Lau Shui Heung has a thick carpet of grass canopied by numerous stately trees and willows growing along the side of the reservoir.
The campsite is small, with just enough space for 20 tents. It's easily accessible even for beginners and facilities include barbecue pits and some benches and tables.
Lau Shui Heung campsite has scenic views, and it's a great choice for those that want to escape the city even just for a while.
How to get there:
Take Minibus No. 52B from Fanling MTR Station to Hok Tau
Get off at a roundabout up at the ridge of Lau Shui Heung Road
Trace the Lau Shui Heung Road until you pass the reservoir
Turn to Lau Shui Heung Country Trail
The travel from Fanling MTR Station to the campsite location takes about 30 minutes.
Sam A Chung Campsite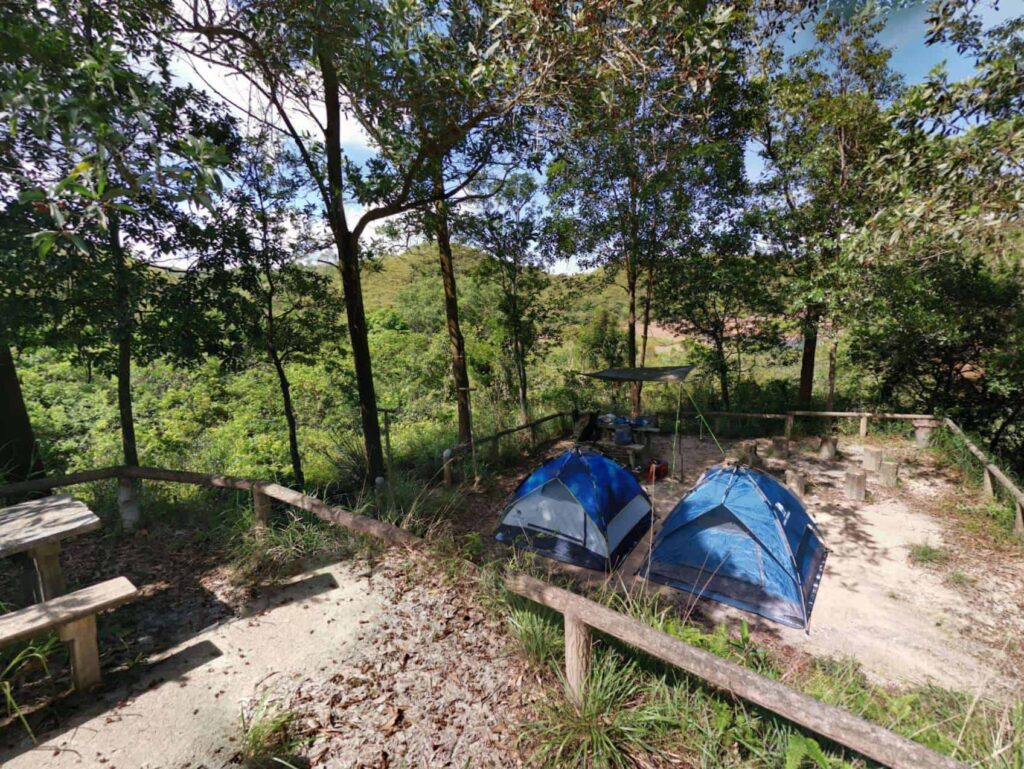 Location: Sam A Chung, Plover Cove Country Park
Campsite Size: Small
Sam A Chung Campsite is a more remote place for camping. It's a rather small campsite, and the hike can be quite difficult, making it more suitable for experienced hikers and campers.
The campsite is found on a small hill by the side of a stream. From there, campers have a picturesque view of Yan Chau Tong (Double Haven), a harbour enclosed by Wong Wan Chau (Double Island). Ngo Mei Chau (Crescent Island) and Kat O are always visible from the area.
A number of geological features make the area a unique spot for camping. There are reddish rocks along the coast and quite a lot of reddish-purple clay siltstone.
How to get there:
Take Minibus 20R from Tai Po Market MTR Station to Wu Kau Tang

If that's unavailable, take Bus 75K to Tai Mei Tuk Bus Terminus or Bus 275R on Sundays and statutory holidays to Bride's Pool Bus Terminal

Walk along the Bride's Pool Road towards Wu Kau Tang
Head towards Sam A Tsuen along the Wu Kau Tang country trail
The walk from the Bride's Pool to the trail entrance usually takes about an hour, but it isn't so strenuous.
Wan Tsai Campsite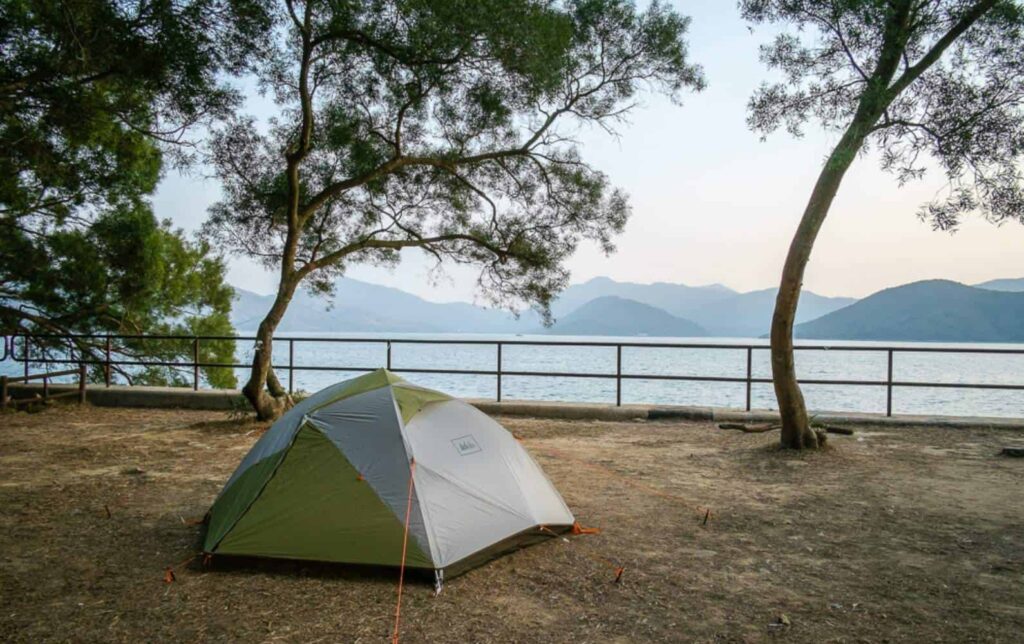 Location: Wan Tsai Peninsula West, Sai Kung West Country Park (Wan Tsai Extension)
Campsite Size: Large
For a campsite that's more accessible for handicapped individuals, the Wan Tsai West Campsite is an ideal spot for a quick camp. The trail going to the campsite is relatively easy and beginner-friendly.
Located at the northwest end of Long Harbour is Wan Tsai Peninsula, where the campsite is found. The area is spacious and quite large, fitting up to over 50 tent spaces.
There are also ample facilities like pavilions, barbecue pits, benches and tables. The hygienic facilities are also commodious, making it accessible for wheelchair users.
At nighttime, the campsite is lit up by the vast starry sky (during dry season). Overall, Wan Tsai Campsite is a pleasant environment with a quaint scenery.
How to get there:
There are two ways to get to the Wan Tsai Campsite.
Method 1:
From Sai Kung Bus Terminal take Bus 94 or Bus 96R at Diamond Hill MTR Bus Terminal on Saturday, Sundays and statutory holidays
Get off at the Wong Shek Terminus
Then hop onto the Wan Tsai-bound ferry at Wong Shek Pier
From Wan Tsai Pier, a 5-minute walk on a stony path takes one to the campsite
Method 2:
From Sai Kung, take Minibus 7 and descend at Hoi Ha Village
Afterwards, follow the Tai Tan Country Trail
Walk for about 45 minutes to the campsite entrance
Tai Long Wan Campsite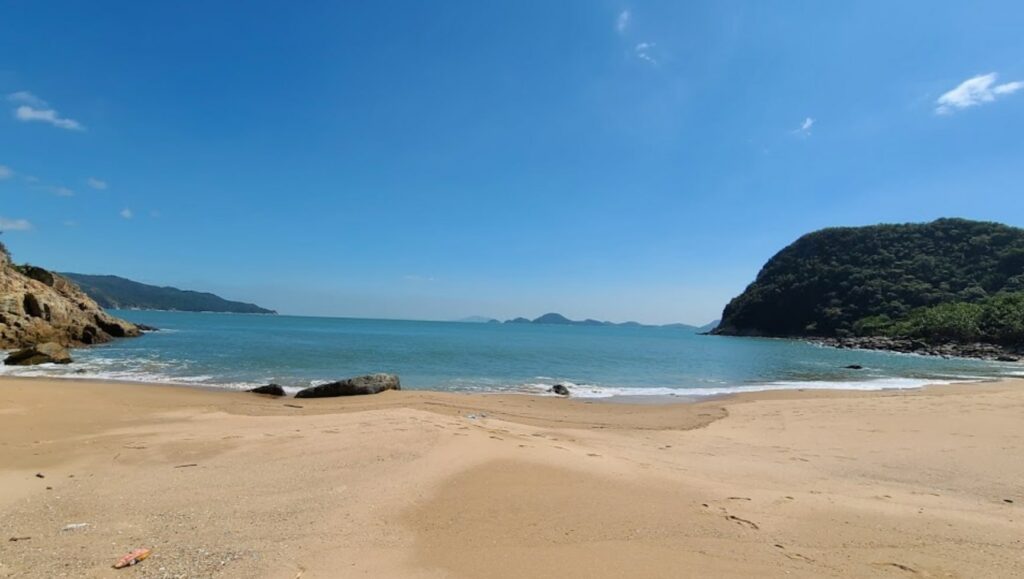 Location: Tai Long Wan, Lantau South Country Park
Campsite Size: Small
Tai Long Wan campsite is an ideally tranquil environment for camping, but the trek can be difficult. Hence, it's more suitable for experienced hikers and campers.
The campsite is small, with only enough space for about 20 camping tents. However, the scenery itself is simply rewarding, with a spectacular view of the beach.
Because it's quite difficult to hike the area, not many tourists visit the place. That can be a good thing!
How to get there:
Take Bus 11 (to Tai O) or Bus 23 (to Ngong Ping) from Tung Chung Town Centre or Bus 1 (to Tai O) or Bus 2 (to Ngong Ping) from Mui Wo
Alight at Sha Tsui Bus Stop
Enter Lantau Trail Stage 8 through Wang Pui Road towards the Kau Ling Chung direction
Walk for about 30 minutes to arrive at the entrance of the site
Long Ke Wan Campsite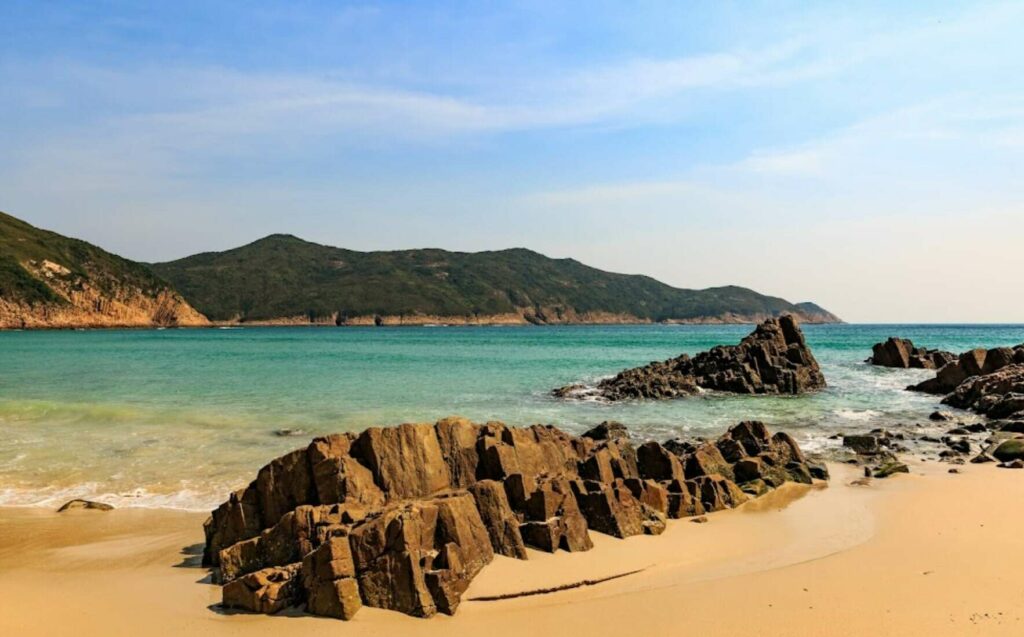 Location: Long Ke Wan (Long Ke Beach), Sai Kung East Country Park
Campsite Size: Small
Long Ke Wan campsite is another gem that's situated far from the city. With silky sand and crystal clear waters, the place is practically pollution-free.
For campers that are fond of quiet meditation, this campsite is just the place to be. The campsite itself is small, and it can be quite difficult to get to.
It's more suitable for experienced hikers and campers. However, the hike is more than worth it when you get to see the breathtaking view.
How to get there:
From Sai Kung Bus Terminal take Bus 94, or take Bus 96R at the Diamond Hill MTR Bus Terminal on Sundays and statutory holidays or take Minibus 7 (Hoi Ha) at Sai Kung Town
Alight at Pak Tam Chung stop
Follow the carriageway of the first stage of MacLehose Trail towards High Island Reservoir
Afterwards, walk along the Man Yee Road, which leads you to the West and East dam
Turn to the roadside path marked towards Long Ke Wan
The journey will last about three hours
Hong Kong Camping Rules and Regulations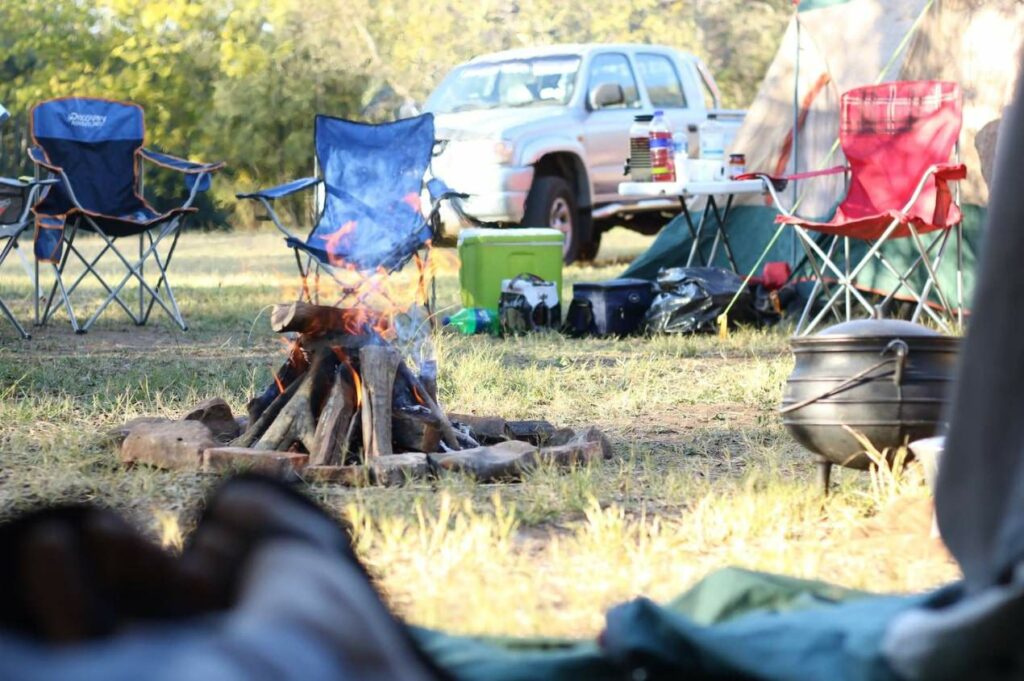 Camping is more than just setting up a tent and spending a night or two outdoors. It takes ample preparation and consideration.
If you feel like you need a little more preparation, you could always pay a quick visit to the physiotherapist to avoid incurring any injuries during the hike.
And before anything else, you need to make sure your apartment or place of residence is locked and safe. You wouldn't want to be miles away from the city worrying about whether you forgot to lock the door behind you.
You'll be going somewhere unfamiliar, where a completely different community resides. So it's only appropriate to be cognizant of certain rules and regulations so as to not offend others and keep yourself safe as well.
Basic Camping Rules
Here are some basic camping tenets you should remember when you're heading out:
Camp only in designated campsites
Light fire only in designated pits and never leave unattended
Place litter in bins and keep the campsite clean
Keep your noise down and respect other campers and nearby residents
Keep water sources clean
Protect wildlife and plants
Respect villagers' property and rights
Extinguish all fires and tidy up the sites before you leave
Respect the countryside and conserve the natural environment
Essential Camping Precautions
To get to some campsites, you might need to hike a little longer. Here are some hiking precautions to keep in mind:
Choose a hiking trail suitable for your strength and ability;
Accompany yourself at least one trained or experienced hiker;
Do not go hiking when the weather is bad, unstable or too hot;
Wear clothing that is suitable for the weather, e.g. cotton clothing in summer;
Bring along enough food and water;
Carry a detailed map, a compass and a fully-charged mobile phone in case of emergency;
Apply insect appellant on the clothes and the exposed part of the body to prevent mosquito bites;
Never go off on your own and avoid hiking in dense woodland or tall underbrush.
What to Pack for a Camping Trip in Hong Kong
As mentioned earlier, camping takes ample preparation. You want to make sure you have everything you need for an overnight stay in a secluded area away from the city, but you also don't want to overpack.
Here's a brief checklist of what to pack for a camping trip:
Camping equipment

Tents
Sleeping bags
Cushions, insulator sheets (a blanket may be too bulky)
Flashlights and extra batteries

Cooking materials

Matches or lighters
Cookset
Utensils (sporks are a more convenient option and are easier to pack)
Plastic bags for garbage

Personal necessities

Extra set of clothing (Dri Fit shirts are ideal since they dry easily and are much lighter than cotton shirts)
Wet wipes
Toiletries
Mosquito repellent
Sunscreen
Portable charger

Miscellaneous

Foldable camping chairs
Picnic mats
Frisbee disc, volleyball, playing cards (if you still have enough energy to play)