Categories >
Guides and Tips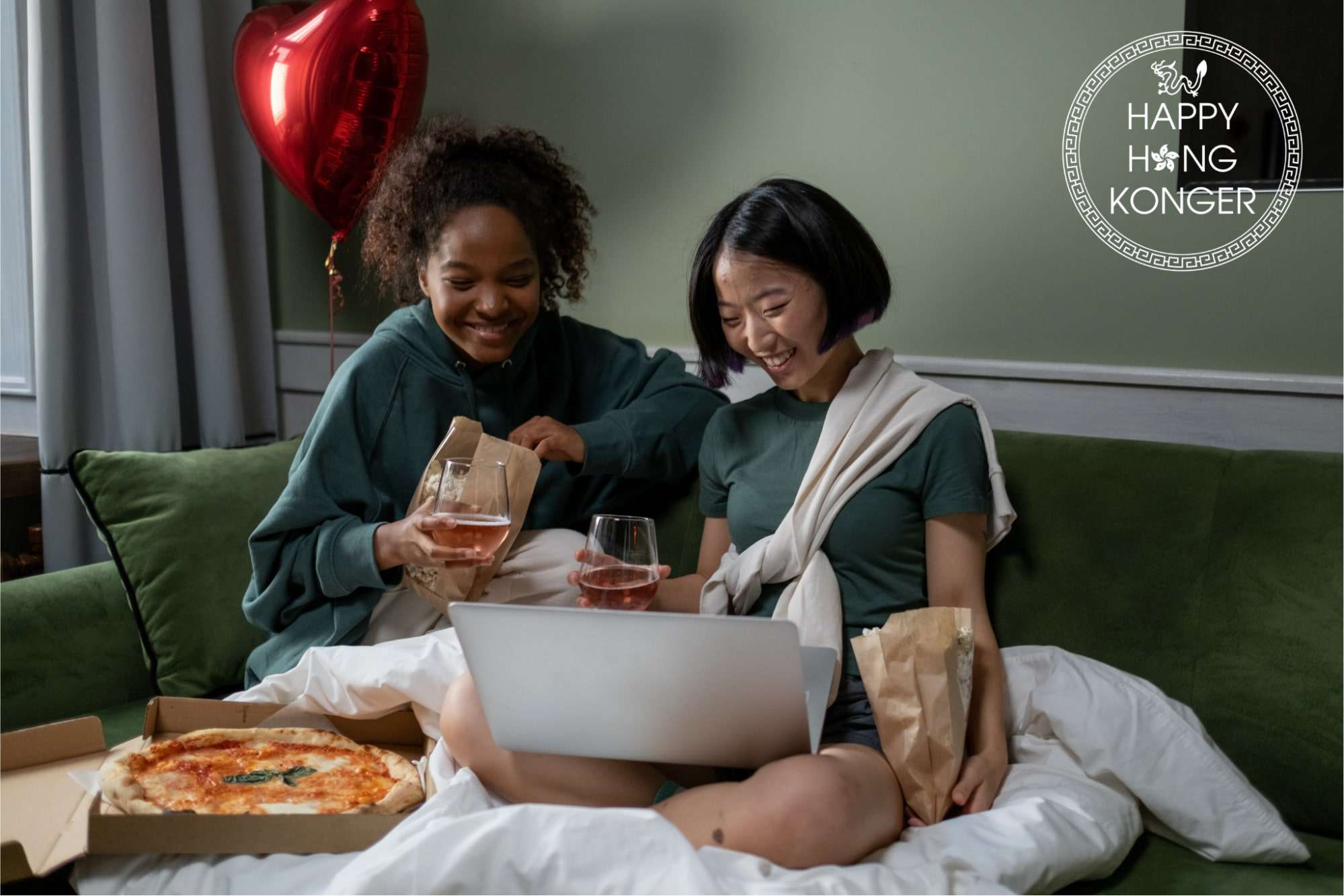 The 12 Must-Watch Hong Kong Movies
Want to discover the wonders of Hong Kong cinema? You're in luck, as most of the Happy Hongkonger staff are local film buffs – and we came together to make this article for newbies to the genre.
We made this list (in no particular order!) of the 12 must-watch Hong Kong movies that we think created history both locally and globally. Take a look at a few local films that painted Hong Kong cinema's unique identity!
1. Chungking Express
"If memories could be canned, would they also have expiry dates? If so, I hope they last for centuries."
Length: 102 minutes
Genre: Drama, Crime
Any film buff you ask would most likely list one of Wong Kar-Wai's movies as one of their favorites – and with good reason.
After all, the screenwriting, cinematography, and direction of his films are truly iconic. His films have a very distinct feel that immediately let you know they are by Wong Kar-Wai.
And of course, Chungking Express is no exception to that. Though it was made as far back as 1994, you can say that it has stood the test of time.
The best way to think of this film is as a gateway to Hong Kong cinema. After all, even those who haven't watched any probably have this one on their list. Romance, drama, comedy, and crime – this film has it all.
The scriptwriting will tug at your heartstrings. In all likelihood, you won't be able to help but proceed to watch it for the second time. (We say this based on experience!)
2. Exiled
"We spend years on the road. I want a home."
Length: 110 minutes
Genre: Crime, Action, Thriller
Exiled came out in 2006, was directed by Johnnie To and written by Kam-Yuen Szeto and Tin-Shing Yip. This action-filled film mainly revolves around Johnnie Wo, a former gangster.
After quitting the gang scene to raise a family, he found himself in peril as his former boss sent four assassins to deal with him.
However, this is where things become tricky! The assassins were actually Johnnie's childhood friends.
While pushing through with the job could mean losing a friend, turning their back on this would cause them all to be in danger.
From there, things become all about making a choice, testing loyalties, and forming bonds.
Exiled received several awards such as best film at the Golden Bauhinia Awards, best action choreography at the Golden Horse Film Festival, best director at the Hong Kong Film Critics Society Awards, and more.
"A faithful heart makes wishes come true."
Length: 120 minutes
Genre: Drama, Action
Crouching Tiger, Hidden Dragon is one of the more popular movies on this list. It was released in 2000 and directed by Ang Lee.
Not soon after, it captured the interest of foreign cinema, making it renowned worldwide. It also won numerous awards, including two Golden Globe Awards and four BAFTAs.
Furthermore, this film is often proudly mentioned as one of the best wuxia films that has ever been made.
It also boasts a hugely impressive cast, including Academy-Award-winner Michelle Yeoh, Zhang Ziyi, Chow Yun-Fat, and more.
Anyway, Crouching Tiger, Hidden Dragon is a period film set in the 19th century in China during the Qing Dynasty.
There's a sword called Green Destiny, believed to be among the most powerful weapons ever created. The fights over the sword's ownership reveal a dozen tensions and bigger contests going on.
While watching Crouching Tiger, Hidden Dragon, we suggest also paying attention to the costumes. They're perfect down to the smallest detail.
4. In the Mood for Love
"It is a restless moment. She has kept her head lowered to give him a chance to come closer. But he could not, for lack of courage. She turns and walks away."
Length: 98 minutes
Genre: Romance
Of course we couldn't resist adding another Wong-Kar Wai film to this roster. Another one of his dreamy films, In the Mood for Love was released in 2002.
It racked up numerous awards like the Cannes best actor award, the British Independent Film Award for best international film, the German Film Award for best foreign film, the Hong Kong Film Award for best art direction, and more.
Anyway, the film is set in 1962. It starts with a journalist named Chow Mo-wan and his wife moving to a new apartment in Hong Kong.
The wife is usually away for business, which is why Chow eventually starts hanging around with neighbor Su Li-zhen. They start bonding over the fact that both of their spouses are usually busy with their jobs.
Not long after, the fact that their spouses were cheating on them all this time surfaces, as do feelings between the two friends.
If you're in the hunt for a love story with a little bit of push and pull (that could be frustrating at times, but it's what makes it compelling), we recommend this one.
5. A Better Tomorrow
"I am God. You're one. A god can be human. A god is someone who controls his destiny. Sometimes, there's things you can't control. You win some, you lose some."
Length: 95 minutes
Genre: Crime, Action
This crime and action film was directed by John Woo in 1986. Some say it's one of his best works.
If you've already started dipping your toes to Hong Kong cinema, you've most likely heard of one of this film's stars, Chow Yun-Fat. In fact, this is the film that catapulted him into fame. Other than Chow Yun-Fat, actors Leslie Cheung and Ti Lung are also stars of this film.
The film is about a former gang-member who tries to reach out to his estranged brother. However, the former gangster soon realizes the difficulty of turning over a new leaf.
This film received numerous nominations from the Hong Kong Film Awards and the Golden Horse Awards. It also has two sequels.
6. Love in a Fallen City
"You are my medicine."
Length: 93 minutes
Genre: Romance
This is another film starring Chow Yun-Fat. Although, unlike the previous one, this is more of a romance and drama.
The story is based on a novel published in 1943, written by Eileen Chang. It was directed by Ann Hui. Meanwhile, the other lead in this film is actress Cora Miao.
Love in a Fallen City is set during wartime in Hong Kong. The film introduces the triumphant story of two lovers during an otherwise unfortunate time.
The film won best film score at the Hong Kong Film Awards in 1985. It also received several nominations for art direction, cinematography, and supporting actress.
7. Made in Hong Kong
"I'm thinking of doing something to shock the world."
Length: 108 minutes
Genre: Romance, Drama
This came out in 1997. It was directed by Fruit Chan and starred actors Wenders Li, Tam Ka-Chuen, Sam Lee, and Yum Hui-Chi.
A year later, it won the Best Picture Award at the Hong Kong Film Awards. Moreover, they also garnered 6 nominations plus a whopping number of 13 other wins!
This is especially impressive when you consider that it's an independent film with such a low budget that they even used pieces of leftover film reels to make the film. The resourcefulness that made this movie possible is nothing short of admirable.
Moving on to the story, though, the film is about Autumn Moon, a high school drop-out who turns into a debt collector after his father leaves his family.
He works for a group of criminals called the Triads. During a normal day of work, Autumn Moon meets a girl named Ping, who happens to be the daughter of a Triad debtor.
This film is about crime and drama mixed with comedy. It's a quick, easy watch with a lot of aesthetically pleasing shots that could invoke a bit of nostalgia if you've ever been to Hong Kong.
8. Comrades: Almost a Love Story
"We were two lonely people keeping each other warm."
Length: 118 minutes
Genre: Drama, Romance
This film was released in 1996 and is directed by Peter Chan. It stars Leon Lai, Eric Tsang, Kristy Yang, and Maggie Cheung.
While the story is mainly set in Hong Kong, there are certain scenes shot in New York City. It also won several awards at the 16th Hong Kong Film Awards such as Best Picture, Best Director, Best Art Direction, and Best Cinematography.
Anyway, this film is about two mainland China natives who move to Hong Kong in hopes of a better life. They start out as close friends but as you might've guessed, they fall in love just shortly after.
However, they then find that they both have different ambitions. This is when the story starts to present the conflict.
Would they try to aim for their dreams? Would they choose each other instead? You have to watch to find out!
9. Fist of Fury
"Eat. This time you're eating paper. Next time it's going to be glass."
Length: 108 minutes
Genre: Action
Of course, a list of the best Hong Kong movies would simply not be complete without adding one of Bruce Lee's.
This is only his second major role, with The Big Boss being the first one. So at the time this was released, he was still in the process of rising to the top!
Anyway, this movie was released in 1972, written and directed by none other than Lo Wei. It's about a martial artist who is out to avenge his teacher's death.
We find that this movie is endeared mostly because of the compelling fight scenes that will keep you on the edge of your seats. Martial arts films have this effect on people – especially Bruce Lee's!
10. Drunken Master
"I drink to prepare for a fight. Tonight I am very prepared!"
Length: 111 minutes
Genre: Action, Comedy
This stars Jackie Chan, one of the most well-known actors in Hong Kong cinema.
Drunken Master is a film from 1978 and is directed by Yuen Woo-Ping, Aside from Jackie Chan, other stars include Yuen Siu-tien, and Hwang Jang-lee.
The story starts when Wong Fei-Hung (Jackie Chan) leaves home because of a disagreement with his father. With nowhere to go, he hesitantly accepts being trained by a drunk martial arts master, Sua Hua Chi (Yuen Siu-tien).
Even though the film guarantees a lot of action and fight scenes because of its martial arts theme, it's also quite humorous. You're guaranteed to have a chuckle!
11. Anita
"I only hope that when you look up to the sky, you will remember a name. A friend who once brought you a bit of joy. Her name is Anita Mui."
Length: 136 minutes
Genre: Musical, Drama, Biography
Anita is one of the more recently released films on this list. Hong Kong cinema has a lot of classics, but of course, there's no reason to exclude modern works from our line-up!
This film made its way through the theaters in 2021. It was directed by Longman Leung and written by Leung and Jack Ng.
A year later after the release, it received several awards at the Hong Kong Film Awards.
Unlike the other ones in this list, Anita is actually based on a true story, particularly about the Cantopop singer Anita Mui.
It's a musical drama that tells the story of Anita from childhood up until 2003, when she unfortunately passed away from cervical cancer.
Louise Wong plays the lead and acts alongside Terrence Lau, Gordon Lam, Louis Koo, and Fish Liew.
12. Throw Down
"You're not a worthy opponent."
Length: 94 minutes
Genre: Martial Arts, Action
Another one directed by Johnnie To, Throw Down was released in 2004. It starred actors Cherrie Ying, Tony Leung Ka-fai, Louis Koo, and Aaron Kwok.
Unlike Johnnie To's other works, this one is actually dedicated to Akira Kurosawa, a Japanese filmmaker who made the movie Sanshiro Sugata.
This film is a product of Johnnie To's love for Kurosawa's work and the art of Judo.
The story revolves around three strangers who eventually form a camaraderie. One is a former Judo champion who is now an alcoholic, the other one is a singer, and the last one is a young fighter.
It's a touching drama film with exciting fight scenes that impart the message of friendship.
Aside from premiering at the 61st Venice International Film Festival, it also received several prestigious titles from several film awards.
It received nominations and awards from Hong Kong Film Awards, Golden Horse Awards, and Hong Kong Film Critics Society Awards.