Categories >
Guides and Tips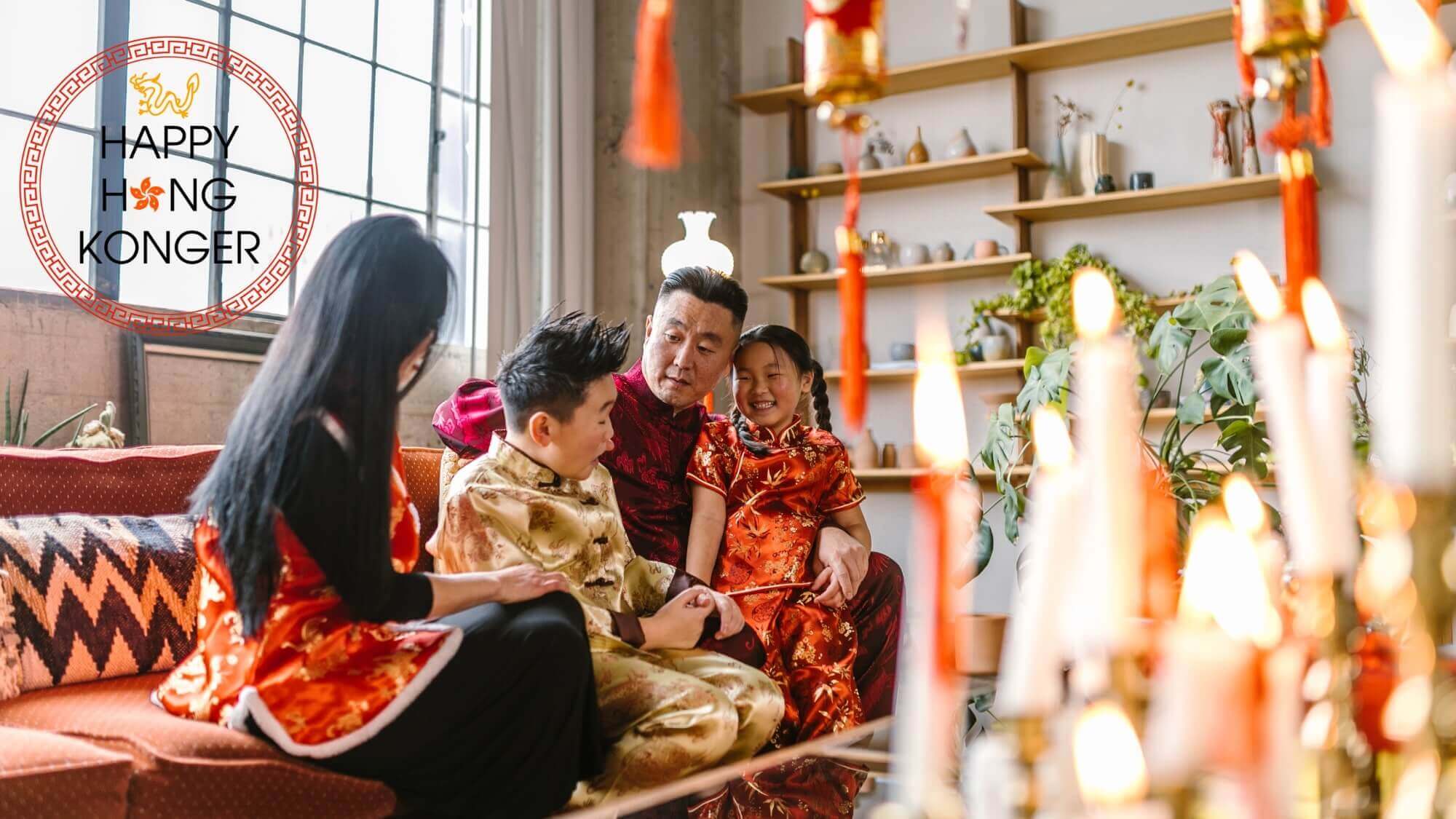 Everything You Need to Know About Chinese New Year in Hong Kong
Chinese New Year is one of the most important holidays in Hong Kong – and one of the most exciting ones too! Hong Kong comes alive with lanterns and fireworks during this time. You might even be able to catch lion and dragon dances!
To know how to celebrate like a local, we've put together a comprehensive guide on everything you need to know about Chinese New Year in Hong Kong. Let's dive in!
What is Chinese New Year?
Also called the Lunar New Year, Chinese New Year is a yearly event that marks the start of a new year according to the Chinese lunisolar calendar. It's recognized around the globe and celebrated among Chinese communities.
When is the Chinese New Year?
Chinese New Year occurs during the beginning of the new moon around January to February 20. It's celebrated at different dates every year, unlike the new year that follows the Gregorian calendar.
As of writing, the next Chinese New Year is on February 10, 2024.
Where is Chinese New Year recognized, aside from Hong Kong? 
Aside from Hong Kong, Chinese New Year is also recognized in countries like China, Vietnam, and South Korea. Countries with a significant number of Chinese people would also celebrate Chinese New Year.
What are Chinese New Year superstitious practices in Hong Kong? 
Some Chinese New Year superstitious practices in Hong Kong are wearing and decorating with red, decorating with and presenting lucky plants to others, and lighting wishing lanterns.
There's a meaning behind all of these, as you may imagine – let's delve into them!
1. Wearing red
According to Chinese beliefs, red is a lucky color. It symbolizes a lot of things like success, good fortune, good luck, and such. That's why you'll see a lot of people wear this color during Chinese New Year.
However, wearing it isn't the only way Chinese people incorporate it during their celebration. You'll also see red displays like lanterns, firecrackers, and more.
2. Decorating with lucky plants
During Chinese New Year, people like to decorate (or give others) plants that are considered lucky. There are numerous lucky plants used for this, often purchased from the stalls at Victoria Park.
Mandarin trees are commonly used as they represent prosperity. Plus, Mandarin or oranges (and other round fruit) are also given as gifts at this time because the shape represents fortune.
Another popular plant is the Lucky Bamboo, which symbolizes strength and fertility. You'll see a lot of these adorned with ribbons (in red, of course but sometimes in gold too) and other lucky ornaments.
3. Lighting wishing lanterns
At the end of the Chinese New Year, some people like writing down their wishes on a lantern and launching it into the sky.
If you've watched the animated film Tangled, you'll have an idea of what it looks like because it's quite similar aesthetic-wise.
Rather than marking the birthday of the long-lost princess, though, Chinese wishing lanterns symbolize rebirth or a welcoming of the upcoming year.
4. Watching Lion Dances
Lion Dances are typically performed during festivals including the Chinese New Year. Sometimes, they're even performed during certain events like weddings and business openings.
The dance is said to terrify the bad spirits, so you can welcome the new year (or the new beginning) attracting only good luck.
How do people celebrate Chinese New Year in Hong Kong? 
People celebrate Chinese New Year in Hong Kong by eating special food, visiting temples, spending time with family, and surprisingly, even going on a hike!
For a more in depth idea on how these ties into local culture, just scroll below.
1. Eat new year foods
Of course, it's not a celebration without an abundance of dishes served on the dining table! In Chinese traditions, they have several typical dishes that they like to eat during the Chinese New Year.
A few examples of this are fish, sweet rice balls, dumplings, poon choi, and more.
2. Visiting the temple
In Hong Kong, it's customary to go to the temple during the 3rd day of the Chinese New Year. As you might've already guessed, people go there to pray for blessings for the upcoming year.
Locals would usually go to temples like Che Kung Temple to pray for good fortune, Pak Shing Temple for love, or Man Mo Temple for study and work related wishes.
3. Going on a hike
A lot of Hong Kongers love the outdoors. On the first day of the Chinese New Year, it has become a tradition for some to go on a hike.
According to their beliefs, doing so would invite luck for the coming year.
4. Spending time with family
Chinese people are a family-oriented bunch. That's why during the Chinese New Year, (specifically the first three days) people spend it with family. After all, holidays are best spent with loved ones!
What places should I go to during Chinese New Year in Hong Kong? 
There are several good places to celebrate the Chinese New Year in Hong Kong. Here are our favorites!
1. The Peninsula
Website: https://www.peninsula.com/en/hong-kong/5-star-luxury-hotel-kowloon
Address: Salisbury Rd, Tsim Sha Tsui, Hong Kong
Contact details: +852 2920 2888
The Peninsula has been hosting Chinese New Year celebrations for 40 years. They're specifically known for fascinatingly elaborate lion and dragon dances.
Needless to say, this is the time of the year that they go all out both in terms of decorations and celebrations.
Here's a fun fact: it has become customary for this dance to be performed whenever a new The Peninsula property opens no matter where it is in the world.
2. Lam Tsuen 
Directions: https://goo.gl/maps/VFVkNi45SXCrEHCj9
Website: http://lamtsuen.com
A highlight in Lam Tsuen that a lot of people came to see is the iconic Wishing Tree. They say that this 200-year old Banyan tree has the ability to make your wishes come true.
During the Chinese New Year, a lot of locals and visitors flock to this place, so expect there to be a crowd. Whether or not you believe in this practice, we believe you'll find this worth the visit because you'll also get to try Hakka dishes and watch various cultural performances.
3. Discovery Bay 
Directions: https://goo.gl/maps/rCGV3F6MWAGwTKqL7
There are a lot of things to do and see at Discovery Bay during the Chinese New Year – like their Sunday Market, which became quite popular with the locals over the years. Vendors here sell different items like flowers and even creative handmade trinkets.
During Chinese New Year though, the Sunday Market becomes more festive so there are plenty of opportunities to purchase special limited-edition items. Don't miss them!
4. Tsim Sha Tsui 
Directions: https://goo.gl/maps/7HT3xBdAz8pUHyTM6
A lot of locals go to Tsim Sha Tsui to see several festivities that happen around the area, from dragon dances to special stalls.
For example, the Tsim Sha Tsui Waterfront is quite a well known place where you can get a fantastic view of the iconic Hong Kong skyline. It's free and you even get to appreciate the beautiful Victoria Harbour.
There are also grand fireworks shows here. Make sure to come as early as 8 PM for the best view.
5. Ocean Park
Website: https://www.oceanpark.com.hk/en
Address: Aberdeen, Hong Kong
Contact details: +852 3923 2323
Operating hours:
Monday, Wednesday, & Thursday – 10 AM to 6 PM
Tuesday – closed
Friday to Sunday – 10 AM to 7 PM
Price:
Adult – HK $498
Child ( 3 to 11 years old) – HK $349
Here's something perfect for the whole family – the Ocean Park! It's an awesome theme park with numerous attractions to enjoy.
During Chinese New Year, Ocean Park holds big celebrations by hosting lion dances, kung fu shows, and many more riveting performances. However, this is just an example of what to look out for.