Categories >
Guides and Tips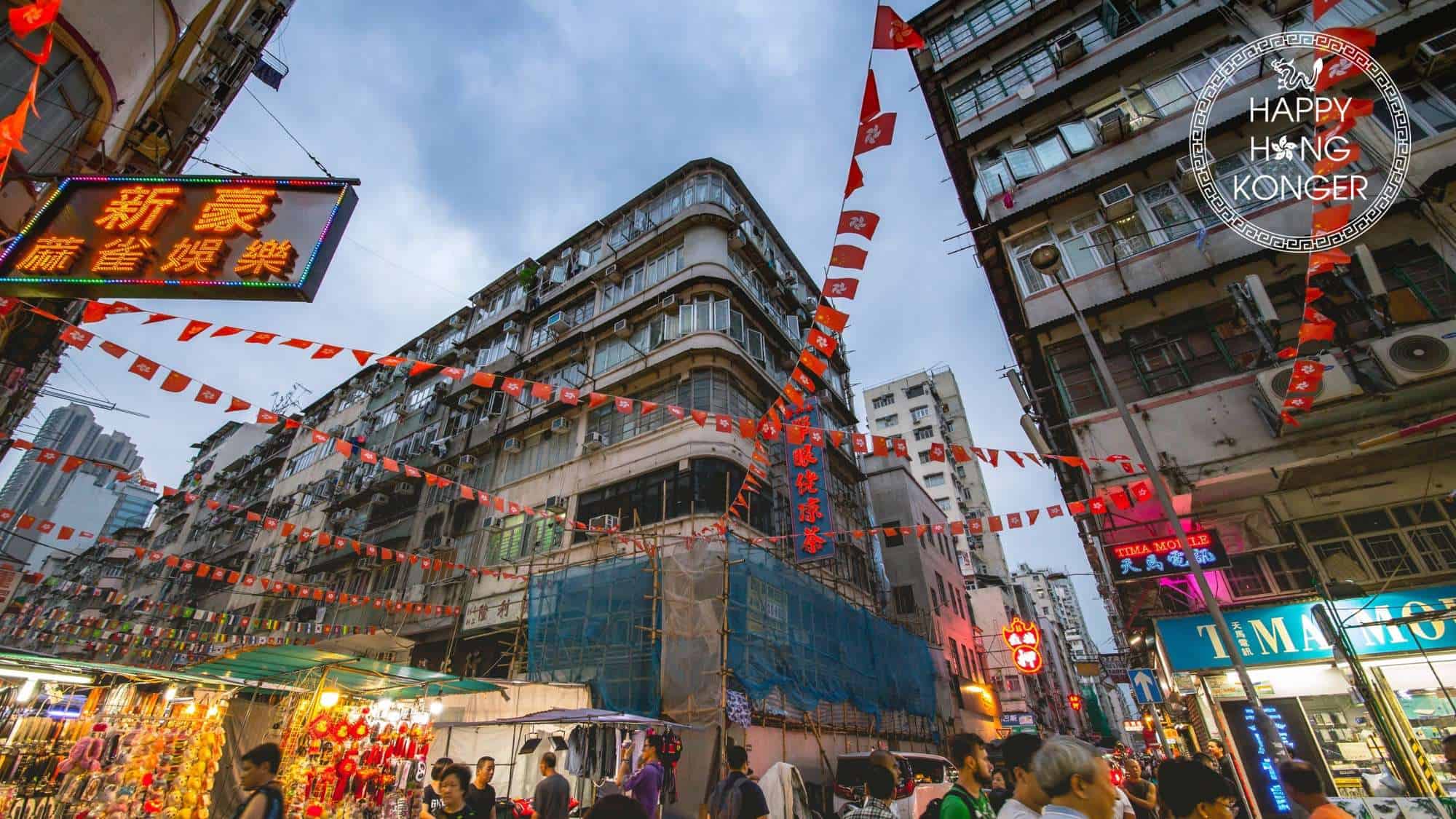 The Top 10 Flea Markets in Hong Kong 
One of our favorite things about Hong Kong is how easily you can find a good bargain if you just know where to look. And of course, where better to look than at a flea market?
From locals to visitors, everyone has heard of the flea markets in our city. But which ones are really worth the visit?
Well, you're in luck, as we're going to drop some local knowledge on that today. Here are the flea markets that the Happy Hongkonger staff agreed on as the best ones to visit!
1. Kam Sheung Road Flea Market
Kam Sheung Road Flea Market made it to our list because of the variety of products you can get a good value for.
There are a lot of tiny shops where you can purchase items such as toys, clothing, jewelry, snacks, household goods – all with a price tag that could be considered a steal! There's even vintage stuff like 80's toys and other antiques.
It's quite a different shopping experience compared to other stores in Hong Kong, so this flea market tends to attract a very wide range of customers.
Moreover, it's also a nice place to just walk around because of the open area. Some people even bring their pets here so they can take them for a walk.
Pro tips:
It's better to go later in the afternoon because some of the best shops open later in the day. 
If you're up for a little adventure, we suggest trying out this coffee shop called Accro Coffee. It's a 16-minute train ride and a 13-minute drive, so you can get there quickly and easily. After all, the flea market is just beside the MTR! For the directions, you can refer to Google Maps. 
2. Cat Street Flea Market
You can find a lot of unexpected little treasures at the Cat Street Flea Market. It's what makes us keep coming back here!
If you're wondering why it's called Cat Street, the story's pretty interesting. Long ago, stores in the Upper Lascar Row sold items that they got from thieves.
The Hong Kong locals during that time often referred to thieves as rats. Eventually, they also began calling those who purchase stolen goods "cats".
But of course, Cat Street has already evolved far beyond what it used to be. It's now a quaint spot where you can acquire old memorabilia, coins, carved dragons, chinaware, Buddha statues, furniture, and many more.
If you're a tourist, this is the perfect spot to buy a piece of Hong Kong to take home with you. Even if you're a local, there's still stuff to see – like items that will make you feel like you're traveling back in time.
Pro tips:
Sheung Wan has a lot of cool spots that are worth checking out, so make sure to explore the area if you have time. From art galleries to hip cafés, you'll be able to discover the next cool place to hangout with your friends. 
If you're there at night, you'll also be able to catch unique bars and speakeasies, so you can hang out at Sheung Wan from day to night.
The Hollywood Road (or the Antique Street, as locals call it) is also nearby. As you can tell from the name, there are quite a handful of antique shops there that you might want to check out too. 
3. Tin Sau Bazaar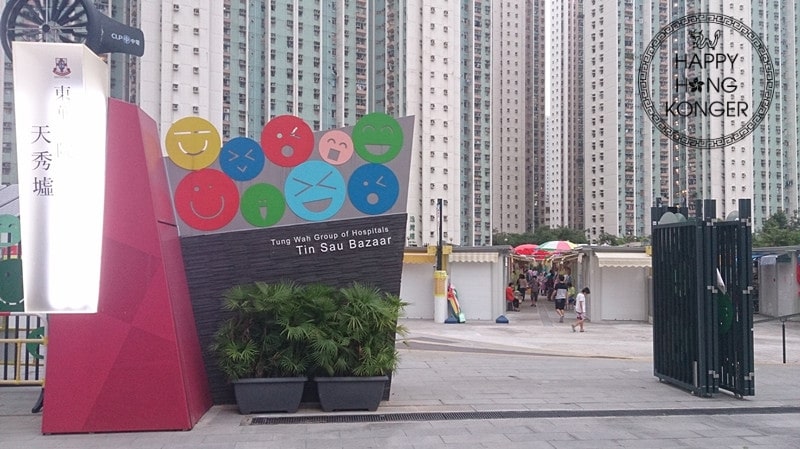 Despite it not being as popular as the other markets in the city, we still recommend Tin Sau Bazaar for several reasons. Among them is that it was created with the hopes of making residents' lives better by giving them another shopping venue.
Moreover, the government also wanted to create job opportunities and refine the hygiene and noise problems at the Dawn Market located in Tin Shui Wai. The ultimate objective, however, is to aid underprivileged residents in becoming self-sufficient.
Not a lot of people know about this spot, even those who were born and raised in Hong Kong. It's a hidden gem where you can get a lot of the necessities like various food ingredients, traditional herbal medicine, and numerous services.
As you would expect, most items are priced affordably. Another plus to shopping here is you'll get the lovely opportunity to help local enterprises expand.
Pro tip:
We suggest trying out the restaurant nearby called Hakka Hut. It's a 15-minute walk and a 7-minute drive. We enjoyed their braised pork belly very much as well as their roasted duck. It's certainly worth quite a short detour. You can let Google Maps lead the way. 
4. Temple Street Night Market
Temple Street Night Market is one of the famous places to get a good bargain in Hong Kong. If you've been to the city once or twice, chances are you've already checked this place out.
But even if you haven't been to Hong Kong yet, there's still a big chance you've already seen photos of this market. Photographers swarm this place to get fantastic night shots that help viewers get a vibe of what Hong Kong after sundown is like.
For that reason, the bird's-eye view of the market has become iconic.
Other than taking scenic snapshots of the area, we also recommend that you come here for the shopping experience, obviously.
In the crowded, narrow streets lie hundreds of stalls selling clothes, electronics, street food, antiques, and many more. There are even fortune tellers lurking in some corners!
Pro tips:
If you're planning on going here, do note that some stalls also sell counterfeit products. If that's something you want to avoid, we suggest being extra wary!
Don't be afraid to bargain with the sellers. A lot of them expect haggling! 
5. Jade Market
Jade symbolizes luck based on Hong Kong and Chinese traditions. That's why you'll see a lot of people here, especially elders, wearing Jade accessories.
Crystals also recently swept over the Western market with the rise of new age beliefs. With the supposed beauty, health, and spiritual advantages, it's no wonder people want crystals of their own.
If you also want to don one of these lucky gems, Jade Market is one of the places to visit. There are various shops that sell Jade in different forms – bangles, amulets, necklaces, green ones, yellow ones, and many more.
Other stalls also sell different kinds of crystals like Amethyst, Tiger's Eye, and more.
Moreover, there are a lot that sell lucky charms, happy Buddha figures made of crystals, and such. You can easily find a nice trinket for yourself or get some gifts for the people back home.
Pro tips:
Be prepared to bargain hard when you're at the Jade Market, especially if you're a foreigner. They know how to discern if you're a local or not and if it's the latter, it's a lot likely they will charge you more. 
Of course, prices per stall vary, so we suggest checking out different shops before buying something. You might find the jade bracelet you've been eyeing with a cheaper price a few stalls down!
Most jade and other crystal items you'll see here are on the cheaper side. If you're looking for more high-grade ones, we suggest going to other more reliable shops.
6. Ladies' Market 
Despite its name, Ladies' Market actually has items that cater to everyone, male or female. It's also pretty big as it has taken over the entirety of Tung Choi Street – that's 1 km of shopping avenue at your disposal!
A lot of stalls sell bags, shoes, jewelry, toys, watches, and many more. Additionally, there are also coffee shops and street food stalls which sell deep-fried squids, wonton noodles, and other filling dishes.
There are also permanent stores behind several stalls that are worth checking out, so don't be afraid to peek behind the stalls.
Once you reach the South side, you'll be able to spot sellers who will offer you deals for animals, plants, and even homeware.
We should note that it's more marketed to tourists, though, so it might not be the best place to go if you want the authentic Hong Konger experience. Still, it's definitely worth checking out at least once.
Pro tips:
Do note that most branded items in this market are most likely fake. A lot of stalls sell the same stuff, so we suggest checking which shop has the best price before buying. That is if you have time, of course! Don't forget to haggle to get the best deals. 
7. Li Yuen Streets East and West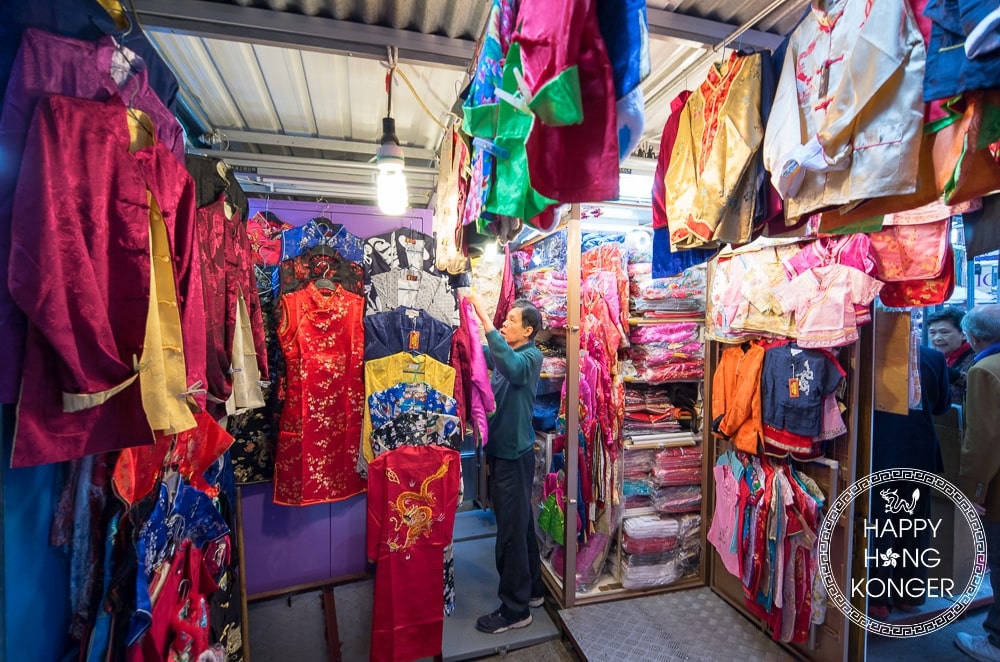 The Li Yuen Streets on East and West are basically two alleys in conjunction that form one narrow lane. This lane is filled with various shops in the middle of Central Hong Kong.
It's ripe with an abundance of color from numerous stalls selling different kinds of goods. From clothes, toys, and souvenirs to accessories, holiday items, and daily necessities, you'll be able to find all of that here and more!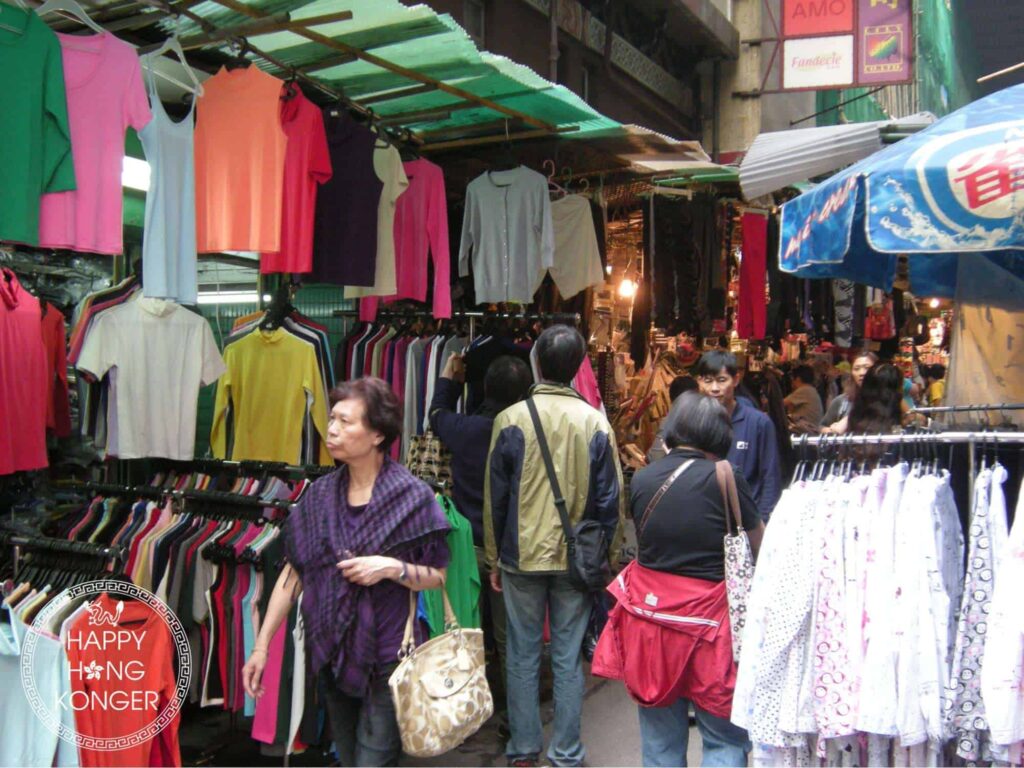 We found that this is also one of the best spots in the city to purchase a souvenir from. This is because you can also purchase a lot of items with elements that will remind you of Hong Kong.
Although it's not exactly as popular as other markets, we still think it's worth seeing. Other than checking out what the shops have to offer, it's also a nice spot to take photos especially if you love street photography.
Pro tip:
After shopping, you can head to the Yat Lok restaurant to grab a hearty meal. It's a quick 9-minute drive or a short 3-min walk. As of writing, it has one Michelin star, so it's certainly worth the detour. 
One of their most famous dishes is the roast goose, which we highly recommend. It's quite a savory and flavorful dish. The soy marinated chicken is also one of our top favorites!
But it's a famous spot so expect to be seated with strangers, especially during peak hours. 
8. Apliu Street Flea Market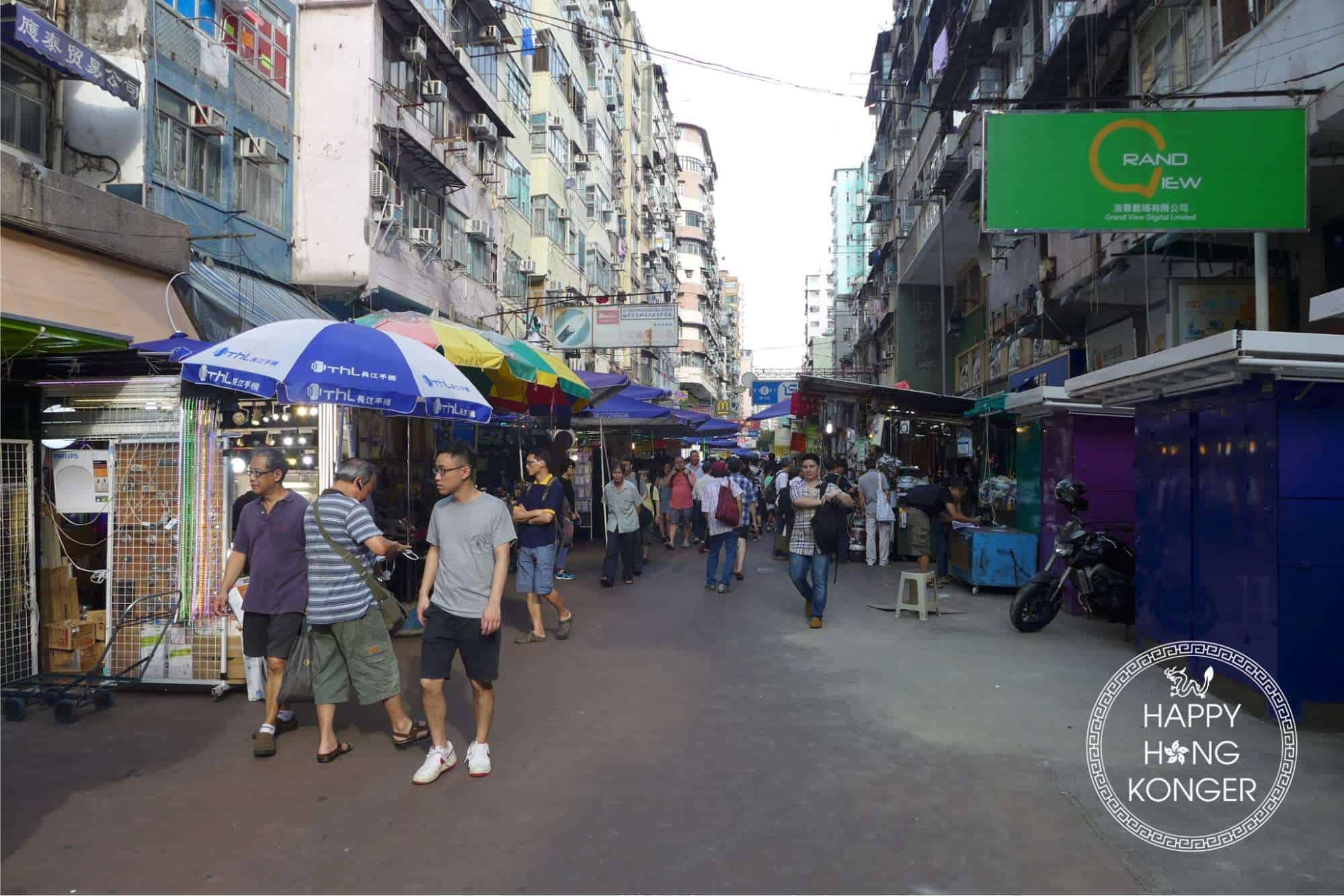 Apliu Street Flea Market is known for being one of the best spots to find cheap and second-hand electronics. They sell items such as televisions, radios, tables, laptops, cameras, and even old coins and clocks.
Almost everything being sold is an old model, so don't expect to find relatively new gadgets here. Some would call it a junkyard, but vintage lovers will find great treasures in the piles of old, discarded things.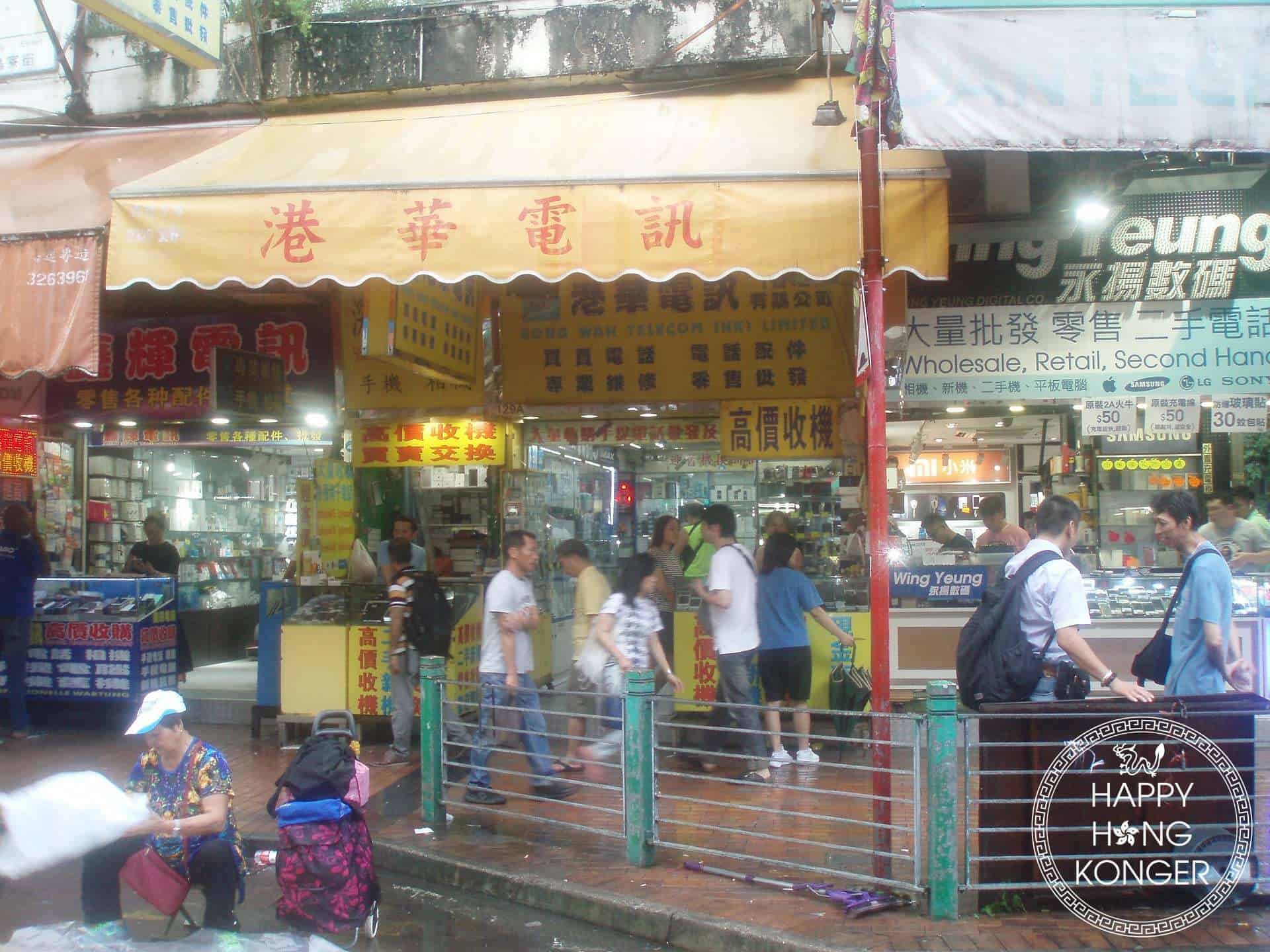 It's a shopping haven because of the numerous stalls in the street that sell items for a great price. If you're someone particularly keen on electronics, you might find yourself spending the whole day here.
As you can tell, the Apliu Street Flea Market is not exactly marketed for foreigners or tourists but that doesn't mean they won't get to enjoy it!
This flea market is a spot where mostly locals gather too, so if you want a more authentic Hong Kong shopping experience, you know where to go.
Pro tip:
While the prices are low in this flea market, haggling would still be useful. Most stalls don't display their prices and would instead give you the price right then and there. Chances are good that if you try your luck, you'll receive a huge discount!
Dropping by this place might make you feel nostalgic, so why not check out Hong Kong Museum of History when you have the chance? It's a 12-minute drive or a 20-minute train ride, but it's a worthy detour. See how to get there by checking Google Maps. 
9. HKCC Creative Market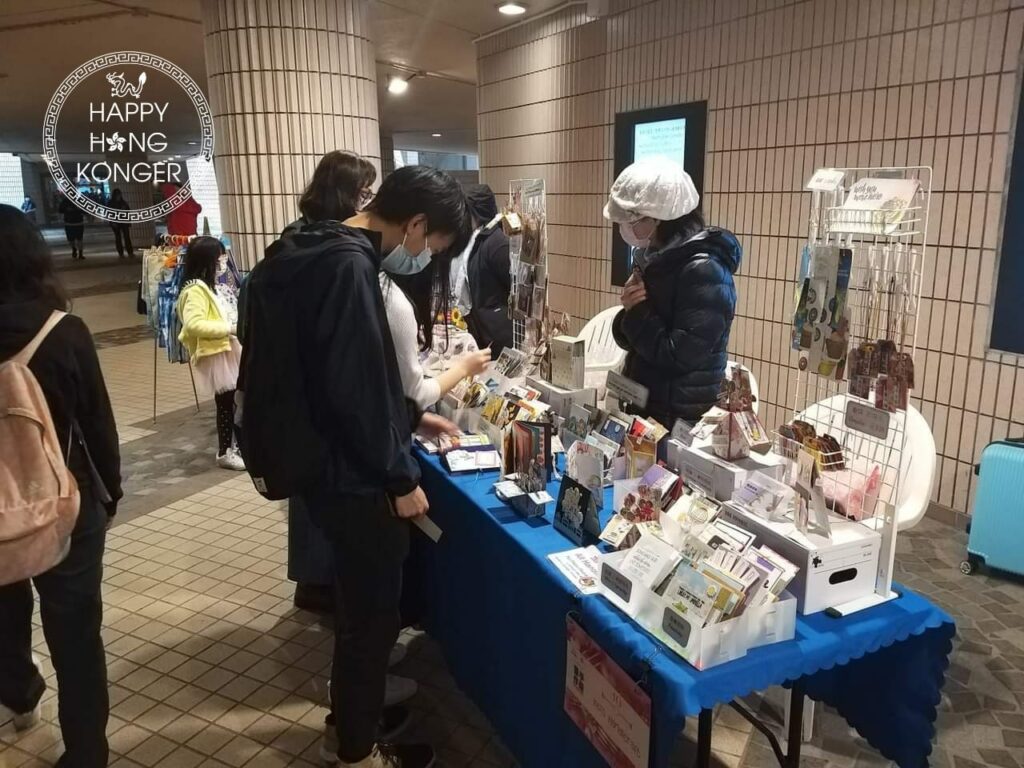 Want to forget the bustle of Hong Kong for a bit and indulge in a quieter scene on a Sunday? Come to the HKCC Creative Market, where there are cool, one-of-a-kind goods that are sold by local crafters in a relatively peaceful little place.
It's a small Sunday market with little to no foot traffic, so unlike at the other markets in the city, you don't have to worry about bumping elbows with the people here.
What's sold here changes from time to time. But whenever we drop by, we usually see postcards, tote bags, bookmarks, accessories, and such.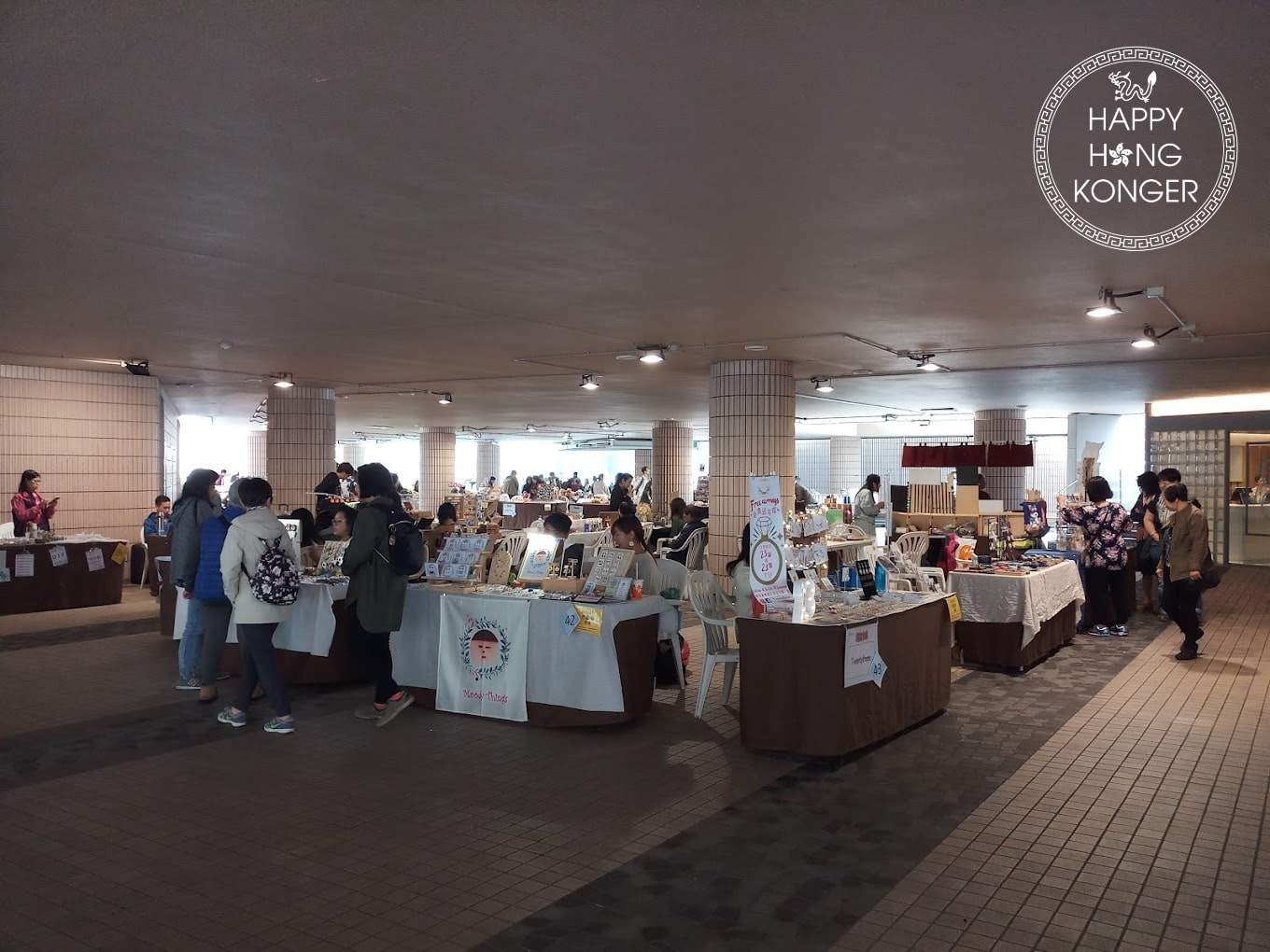 All of them were handmade – how cool is that? If you want to stray away from mass-produced items and want to opt for something more special and unique, we highly recommend this creative market.
Most of the items being sold are great for gifts or souvenirs, depending on how you look at it.
We also think it to be a great spot to connect with local artists and to support them by purchasing their work.
Pro tip:
There's a cool Hong-Kong-style café nearby called The Australia Dairy Company (we're not sure why it was named that!). One of the food items they are most known for is the egg sandwich, which we also recommend. Get there via Google Maps. 
10. Stanley Market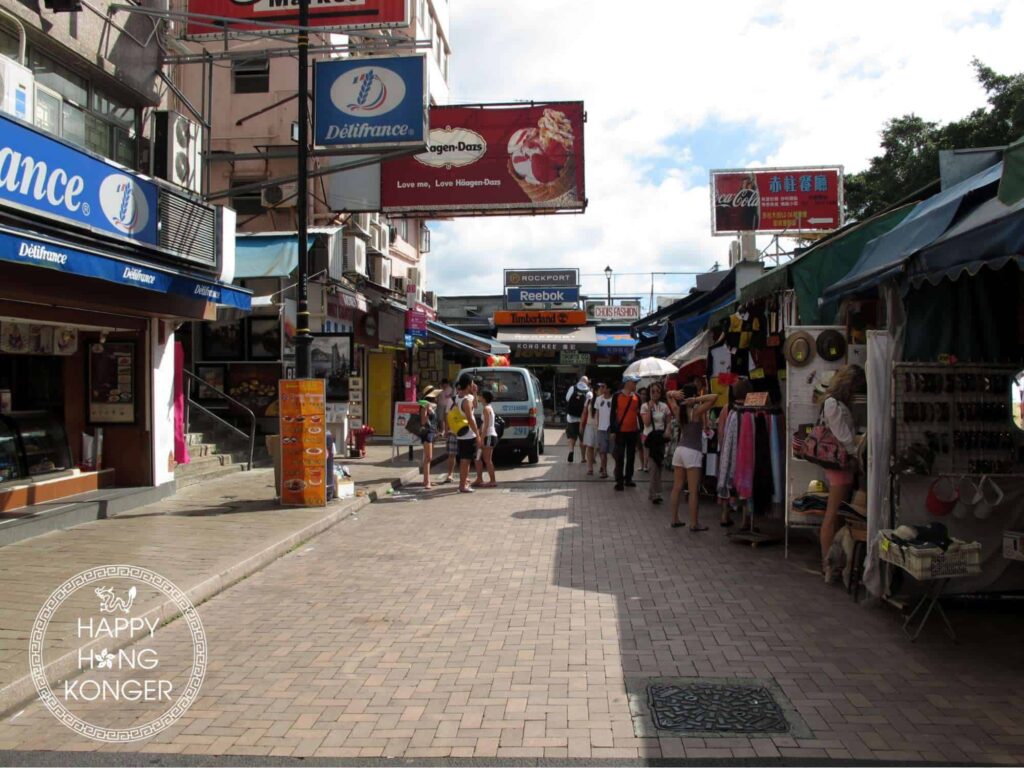 If you want to take a trip outside the busiest areas of Hong Kong, the Stanley Market might just tickle your fancy. It has a lot of stalls and cheap goods like the other markets, but with fewer people and equally interesting sights by the seaside.
It's quite popular among tourists because one can also purchase both Chinese and Western clothing. Moreover, there are also chopsticks, art, jewelry, other trinkets, and many more at a bargain.
Pro tip:
We find it best to go here on a weekday because crowds seem to double during the weekend. 
If you're already in Stanley, we suggest adding Blake Pier to your itinerary. It's a nice spot to get a beautiful view of the sunset. 
For a quick show, we suggest trying an American restaurant with an all-day breakfast & brunch called Beef & Liberty. They have this unique burger named The King that is made with a sugary bun, bananas, Nutella, and more good, sweet stuff! It's a quick 2-minute walk from the Stanley Market, so it's not much of a detour. It's honestly hard to find a decent restaurant in the area, but we think this is one of the best. See how to get there via Google Maps.