Categories >
Guides and Tips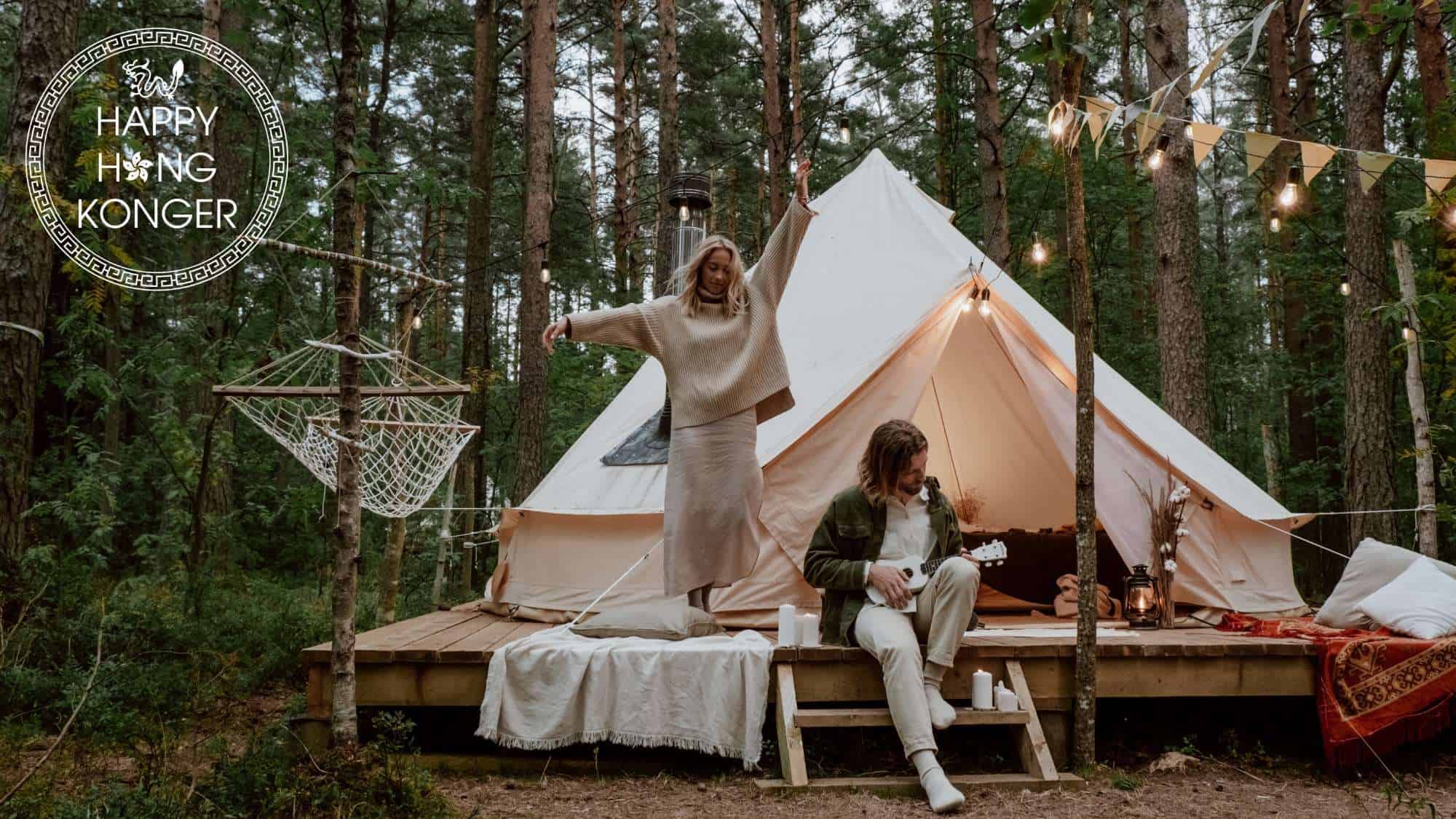 The 10 Best Luxury Camping and Glamping Sites in Hong Kong 
When people think of Hong Kong, the picture they paint in their heads is mostly towering skyscrapers and locals in a hurry as if late for their next appointment.
Few people realize that it's also home to some of the most luxurious camping and glamping sites in the world!
As it happens, we've tried out a lot of these sites. In this article, we selected ones we liked best – the ones perfect for anyone looking to escape the city and unwind in green Hong-Kong style.
1. Saiyuen Camping Adventure Park
WEBSITE: https://www.saiyuen.com
ADDRESS: Hong Kong, Cheung Chau, 西灣 DD CC Lot 12
CONTACT DETAILS: +852 2981 1010
OPERATING HOURS: Monday – Sunday 9 AM – 6 PM
The Saiyuen Camping Adventure Park has long been a favorite of glampers in Hong Kong. We know because a lot of our staff here at Happy Hongkonger go here – you might even see some of us if you choose this park!
Anyway, if you want something that's exciting, you'll want to check this out. This is because of the different themes they have available:
The Native American Teepee, as you can tell from the name, got its aesthetic from the homes of indigenous people. They created graphics on the exterior that tell a story. For example, the upper part is the sky, the bottom is the earth, and the center is about the living.
The Mongolian Ger rests in the more secluded part of Saiyuen. We find this perfect for those who want a more intimate experience! It can accept a group of 4 people. Furthermore, there's a private bathroom, air conditioning, and a shower. Anyway, this theme is inspired by nomads in 600 B.C. who rode horses around Northern Asia plains.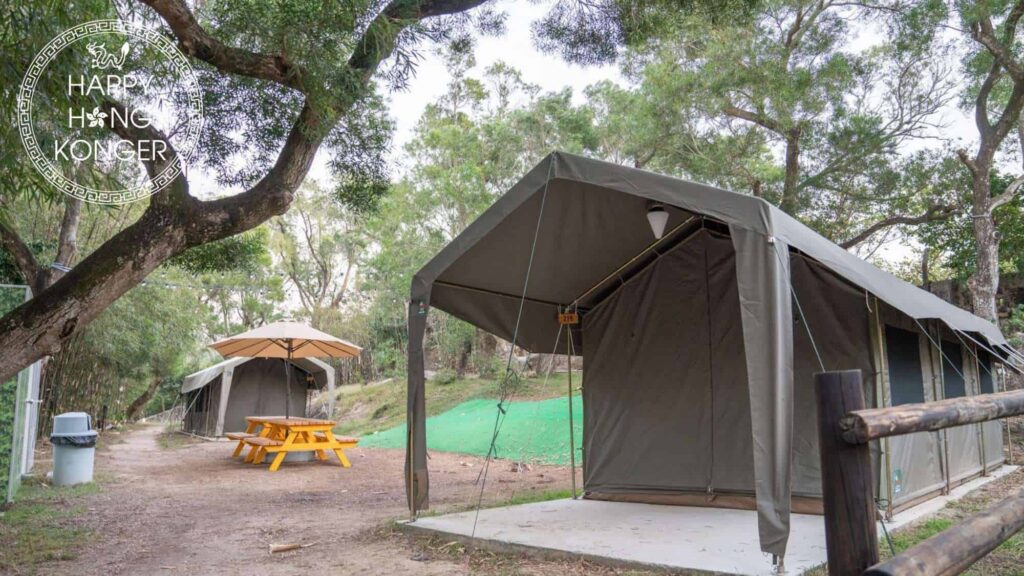 The African Safari Link is perfect for people who like to feel like they're on a great safari adventure. It can accommodate up to 8 people and has 2 private showers, so it's recommended for big groups.
The Geodesic Dome has a more common design because it's what you usually see in glamping sites. However, this doesn't mean that it doesn't stand out. In fact, we think one of its strengths is the location. Why? It calls for a more intimate setting because it's located in the most secluded spot in Saiyuen. The Geodesic Dome also gives glampers a chance to go stargazing.
The Sunset Vista is kind of similar to the Geodesic Dome when it comes to space and design. But at the Sunset Vista, there's a 2,000 sq ft. lawn where you can do various activities like cooking barbecue, setting a campfire, watching the sunset, and more.
As of writing, they have 6 different camping areas. There's a total of 40 tents at Saiyuen, so there's plenty of space for everyone to have a fun time.
Pro tip:
If you want to do a lot of the usual camping activities, we suggest staying at The Sunset Vista. However, if you want a more authentic vibe to your camping experience, try opting for The Native American Teepee, where you'll get to stay in tents.
2. Long Coast Seasports
WEBSITE: https://longcoast.hk
ADDRESS: Hong Kong, Lantau Island, 長沙下村29號
CONTACT DETAILS: +852 5545 5625
OPERATING HOURS: Monday – Sunday 9:30 AM – 6 PM
Since the Long Coast Seasports at Lantau Island is a beachfront resort, there are a lot of water sports that you can do in the area. This includes surfing, wing foil, skimboard, windsurfing, kitesurfing, wake surfing, and more.
You don't have to have any previous experience in order to take a whack at it because you can sign up for private lessons.
Anyway, they have a spectacular selection of glamping sites that are all made for comfort:
The Small Caravan is recommended for those who are 3 or less in a group. If there's an extra person, they have to order a supplementary voucher. Checking in at the Small Caravan assures you of breakfast, bedding, access to watersports and facilities, as well as use of the caravan (of course).
The Deluxe Caravan can accommodate up to 4 people, maximum of 5 if one is willing to pay for the supplementary voucher. Basically, the Deluxe Caravan is similar to the Small Caravan based on the benefits. The only difference is the size of the caravan.
The Teepee Tent is exactly like the Deluxe Caravan when it comes to maximum number of people and the benefits. However, as you can tell from the name, you get to stay in a tent which is perfect if you want a more authentic camping experience.
Pro tips:
While you can add an extra HKD $250 for the BBQ dinner package, there are also several dining options nearby. That way, you don't have to bring your own food and you have the complete freedom to order what you like. However, you can also bring your own food for the BBQ, so we think whatever you choose, it's a win-win!
Pets are allowed at any caravan, provided that the owner brings the dog's own bed. They should also be leashed at all times.
3. Mingle Farm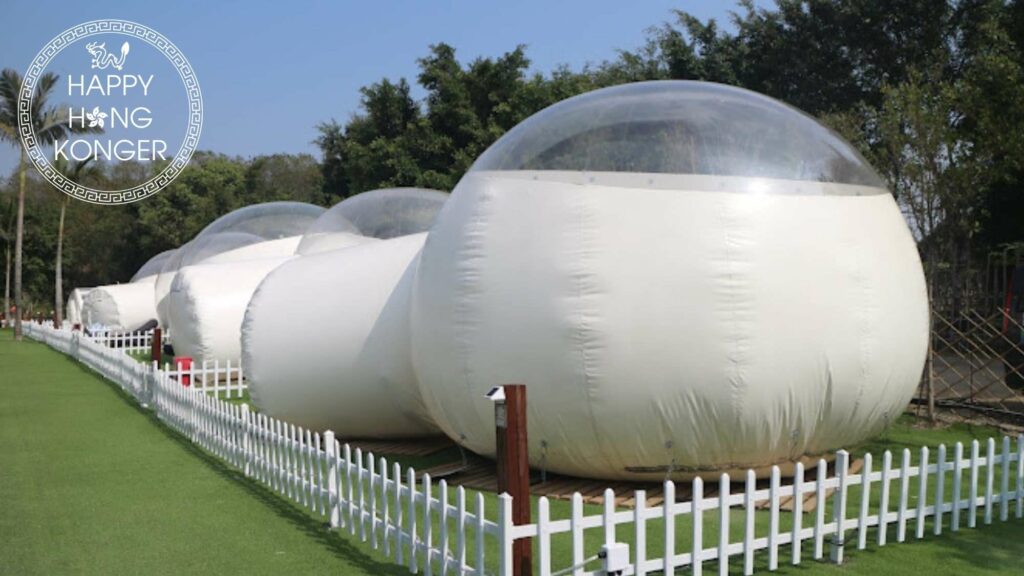 WEBSITE: http://www.minglefarm.com
ADDRESS: 元朗, 上白泥, 154號 Nim Wan Rd, Lau Fau Shan, Hong Kong
CONTACT DETAILS +852 2891 8263
OPERATING HOURS: Monday – Friday 10 AM – 6 PM; Saturday & Sunday 10 AM – 10 PM
Mingle Farm is another site that gives a really nice spin off to the traditional camping experience.
The tents here look unique and futuristic because they look like bubbles. The ceilings of these tents are transparent so you'll get the chance to look at the stars while you're relaxing on your bed.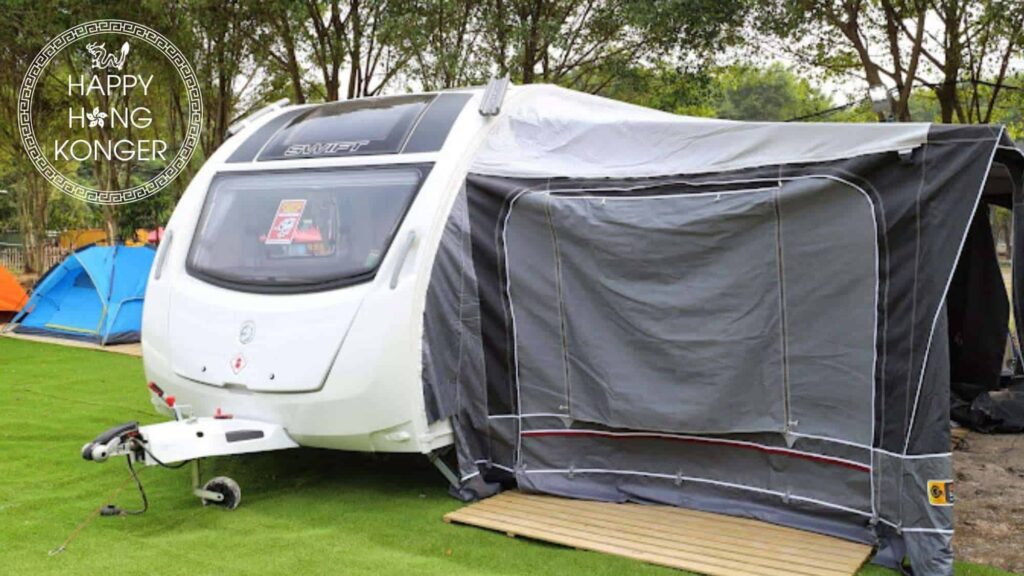 They also have other tents like their inflatable mushroom tents and rainbow-colored houses that are perfect if you want to inject a little more fun to your experience.
Oh, and if you want more luxury? You can also opt for the caravan camping that has several amenities like your own air condition.
Pro tip:
Watching the stars and relaxing in your own little bubble (pun intended) aren't the only things you can do here. You can also play archery and other games, cook barbeque, ride a bike, play badminton, and such.
And if you're worried about it raining while you're on-site, don't be. The things we listed are heavily weather-dependent activities, of course, so they also built an indoor multi-function hall for rainy days.
4. Park Nature, Caravan Camping
WEBSITE https://www.parknature.com.hk
ADDRESS: F345+2Q2, Kam Tin, Hong Kong
CONTACT DETAILS: +852 9694 0077
Another spot you can escape to during your vacation is the Park Nature, Caravan Camping. It's situated in the area near Fung Kat Heung (where there is a famous historic house, by the way).
At the campsite, there's a big lawn where guests have the opportunity to engage in several activities like badminton, trampoline, and such.
You'll also be able to buy simple snacks here like cup noodles as well as non-alcoholic and alcoholic drinks.
Now, there are several accommodation choices here. We tried several ones and picked these as the top options:
The Morocco Style Pet Friendly Caravan is quite small, but has everything you need – A dining area, television, air condition, and the like. They say this can accommodate up to 3 people, but we think it's better for 2 people only.
The Cube Caravan has its own small yard where there's a dining area for the 3 guests who are staying here. There's also ample space outside to cook your own food.
The Galaxy Caravan looks a bit futuristic. What we like most about this is that when you lie down on the bed, you'll be greeted by a small window through which you can view the stars. This caravan can accommodate 4 – 6 people.
We find the Yellow Pet Friendly Caravan to be quite cute from the outside. While it looks small, we think it was designed really well so it looks and feels spacious inside. There's a kitchen, television, shower and toilet, and a bed.
Pro tips:
You can purchase BBQ meal sets for the price of HKD$88 per head. There's also a breakfast meal available, but you have to pay extra for it. You can also rent a bike from 9:30 AM to 10:30 PM.
5. YHA Pak Sha O Youth Hostel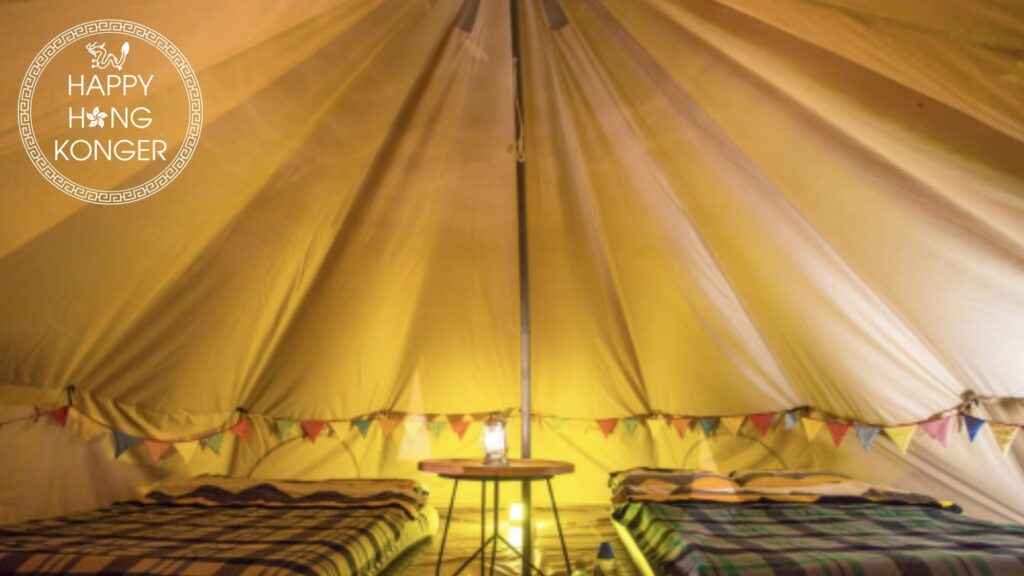 WEBSITE https://www.yha.org.hk
ADDRESS: Hoi Ha Road, Pak Sha O, Sai Kung, New Territories
CONTACT DETAILS: email: [email protected];
Wechat: HK-YHA; Reservation: (852) 2788 1638; Hostel: (852) 2328 2327
OPERATING HOURS: Monday – Sunday 9 AM – 8 PM
The HK YHA actually has 3 glamping spots. All have their own charm, but for this article, we're just going to tell you about our favorite, the Pak Sha O Youth Hostel.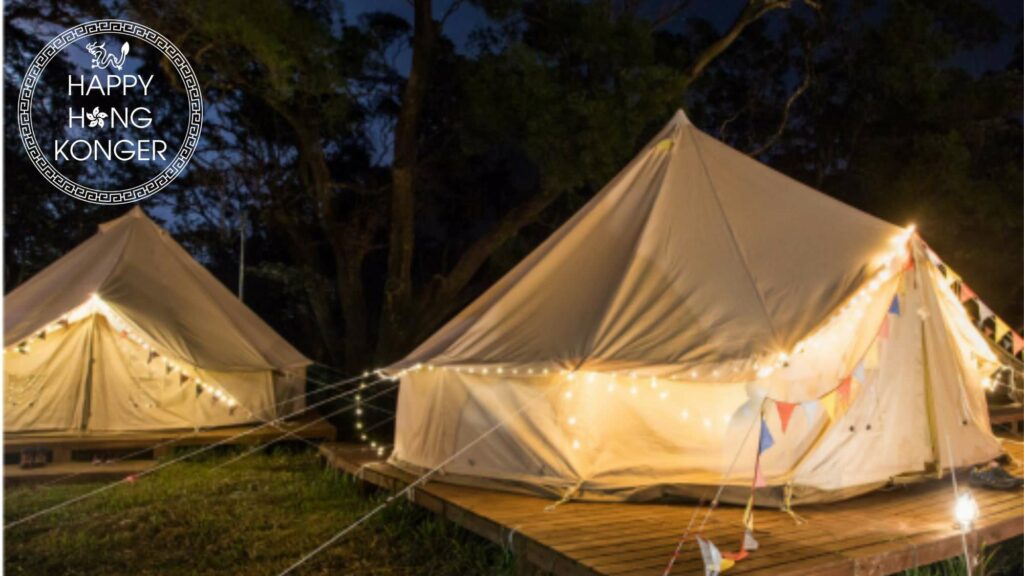 There are 2 dormitories in this hostel, one can fill up to 4 people, while the other one can accommodate as many as 16.
That said, this place is actually famous for the lovely outdoor tents where people can further enjoy the outdoors. You'll be able to see that you're surrounded with lush greenery, so the experience is more authentic.
Pro tip:
The hostel is nearby Hoi Ha Wan Marine Park, so we suggest checking that out while you're here! You'll be able to explore marine life, do exciting activities, and admire the beautiful landscape.
6. Welcome Beach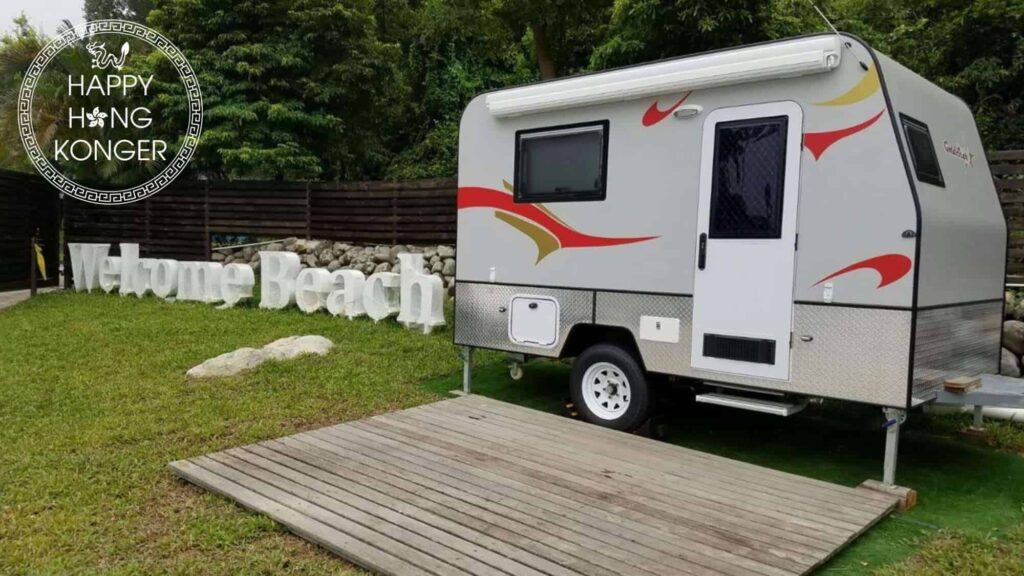 WEBSITE: https://welcomebeach2020.wixsite.com/welcomebeach
ADDRESS: 嶼 南山 長沙, Hong Kong
CONTACT DETAILS: +852 2890 9980
OPERATING HOURS: Monday – Sunday 10 AM – 7 PM
If you want a huge grassy space to really feel like you're out there exploring nature, Welcome Beach is a great place to go to.
There are a lot of caravans to rent, all of which have a private bathroom, television, cookware, and wi-fi. While you'll be sharing the outdoor space with other guests, the caravans are built for privacy, so you can run back in if you need a little me-time.
Pro tip:
The Welcome Beach is near Cheung Sha Beach, one of the most popular beaches in Hong Kong. After all, it's the longest beach around. Make sure to check it out if time allows.
7. Galaxy Garden
WEBSITE: https://www.galaxygardenlantau.com
ADDRESS: Hong Kong, 牛坳園
CONTACT DETAILS: +852 9263 9078
OPERATING HOURS: Monday – Sunday 4 PM – 11 AM
Galaxy Garden is made especially for those who love stargazing. There are inflatable, transparent-ceiling bubble houses located on a grassy field that will serve as your home in a camp reminiscent of a garden.
Please embed: https://www.instagram.com/p/CUpKDe-Jzyn/?utm_source=ig_web_copy_link
And if you're worried about the light pollution, this is located on Lantau Island, so it won't be a problem.
Another thing we love about the galaxy garden is that there are areas when you can cook your own barbecue. Moreover, the essentials in outdoor camping are already available on site, so you don't have to worry about bringing anything.
Pro tip:
Galaxy Garden created a map of the nearby restaurants and facilities for their guests' convenience. It's a great way to see what else you can do in the area while glamping. To view it, go to their website here.
8. WE Camp
WEBSITE: https://www.wecamp.com.hk
ADDRESS: ARMED FORCES OUT BOUND TRAINING, Fung Kat Heung Rd, Kam Tin, Hong Kong
CONTACT DETAILS: +852 6296 6689
If what you crave is a huge space to frolic in, you'd enjoy WE Camp's 150,000-acre camping site. It's located in an area with a lot of natural scenic views and breathtaking landscapes that will make you forget you're in Hong Kong.
Anyway, WE Camp has several camping zones conveniently named A Zone, B Zone, B+ Zone, K Zone and an American log cabin.
If you were to ask which one we love the most though, we'd say it's the B Zone. First off, it has a car camping area, which not a lot of campsites have.
Moreover, there's a generous view of the Yuen Long Jigong Mountain that you wouldn't want to miss.
Pro tip:
You have the option to rent their BBQ Set (BBQ stove, barbecue fork, tableware, charcoal etc), additional tents, and such. Do note that if you're planting on renting these, you have to make a reservation at least 3 days before.
9. JK Club
WEBSITE: http://jkclub.net
ADDRESS: Hong Kong, Lantau Island, 澄碧邨19-20座
CONTACT DETAILS: +852 2984 0220
Situated within the stunning natural landscapes of Hong Kong's countryside, JK Club offers visitors a chance to escape from the colorful city life with its idyllic caravan-glamping experience.
The campsite at JK club has several caravans available, varying in size. While caravans are usually small, theirs have everything you need like air conditioning, showers, and such.
The caravans can accommodate around 2 to 6 people, so it's ideal for a couple's getaway or a relaxing time with your group of friends.
Pro tip:
Camping isn't the only thing you'd be able to enjoy during your stay here. You can go to an organic farm where you can go strawberry picking, and experience the hiking trails at Lantau Peak or the beautiful Pui O Beach.
10. Simple Cottage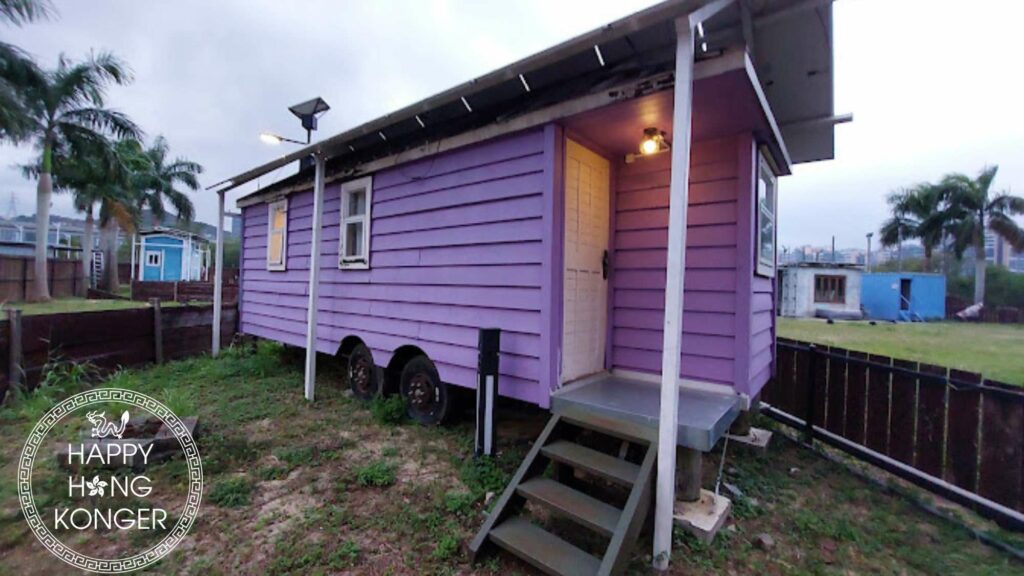 DIRECTIONS: https://goo.gl/maps/Fn8HDHjWQTkGmDaX9
ADDRESS: Hong Kong, Kam Tin, 水尾村
CONTACT DETAILS: +852 5499 5445
OPERATING HOURS: Monday – Sunday 9 AM – 10 PM
The Simple Cottage is exactly what its name portrays. Here, guests will have the chance to stay in a simple room that looks like a trailer turned into a mini home.
You can probably tell by now that the space is small, but if you're only staying here for a few days, we don't think it will be an issue.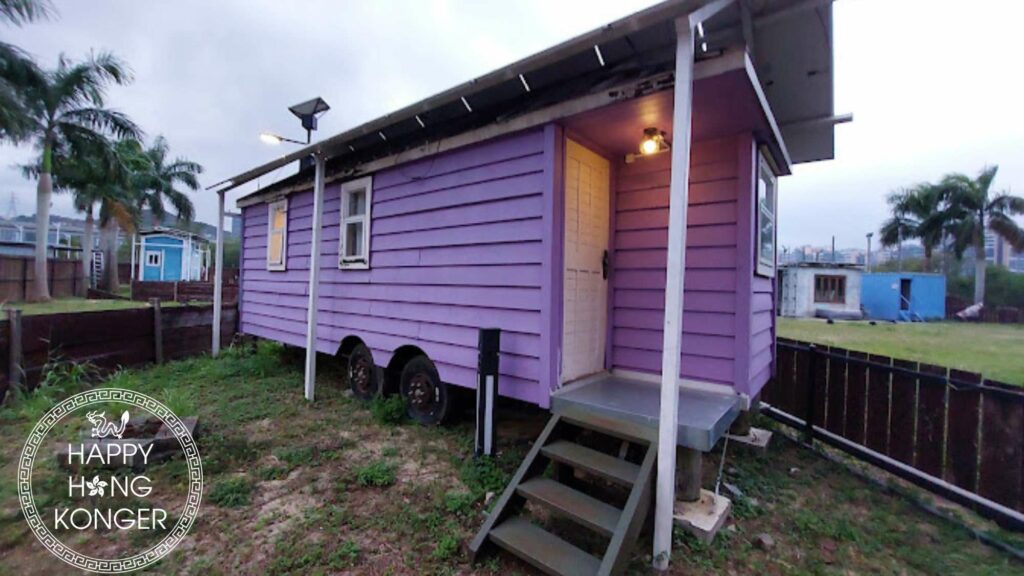 Each cottage is painted in fun colors, which we think is a fun addition to the surroundings. We found that this is one of the things that made people want to book a night here.
Even though the cottages are old, they're quite well-maintained, so guests would still be able to enjoy the clean accommodation.
We love that it's quiet here – the ambiance is similar if you're camping in the mountains. You'll be greeted by a large grassy area outside, so there are a lot of activities you can do here as long as you bring your own equipment.
Pro tip:
The Simple Cottage is very out of the way, so we would only suggest this place to people who really want to go far from the city. If you want something closer to the city, we're sure you'd love the other options.