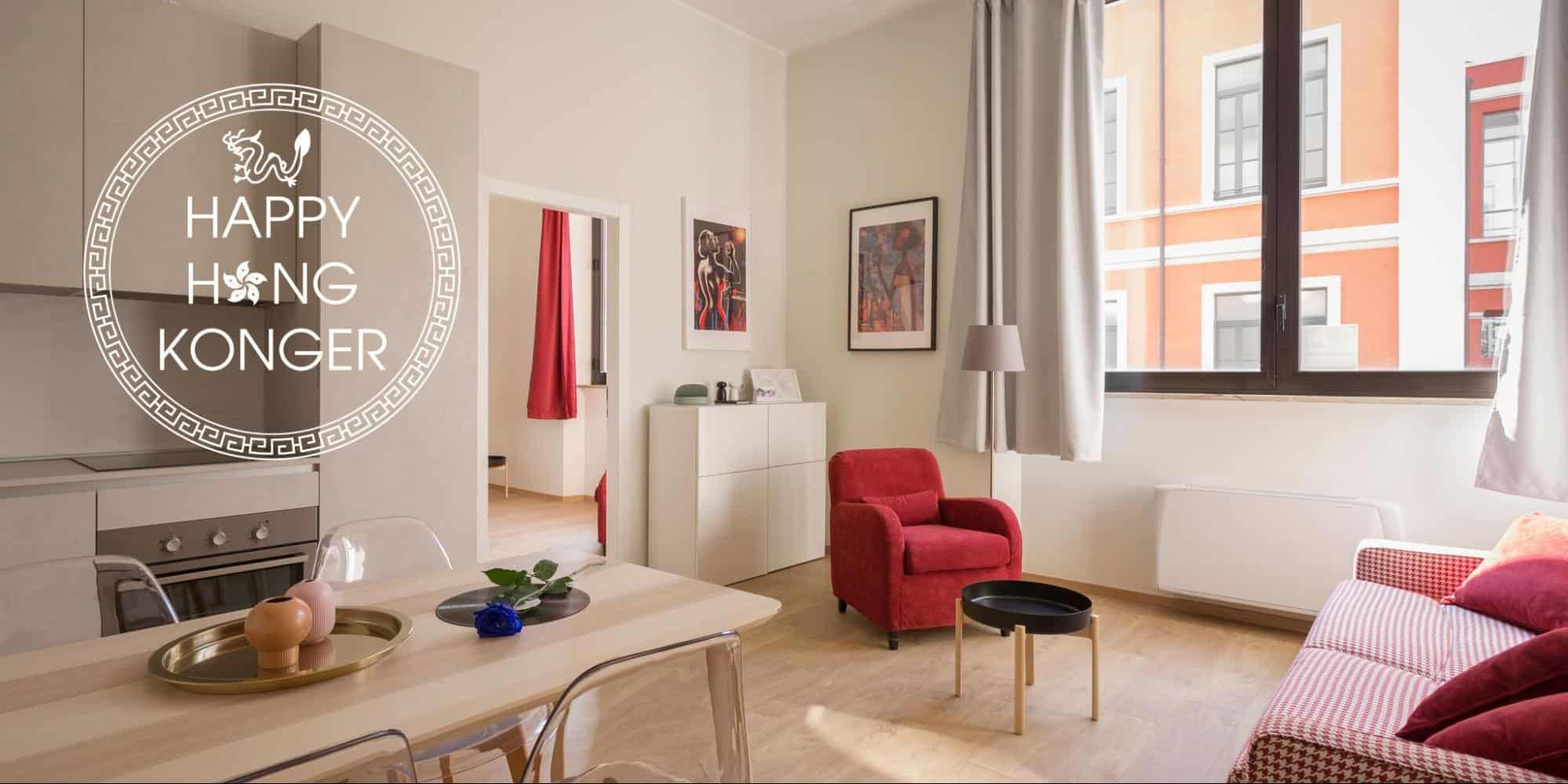 Top 5 Coliving Services in Hong Kong
How We Picked
1. Nathan Residences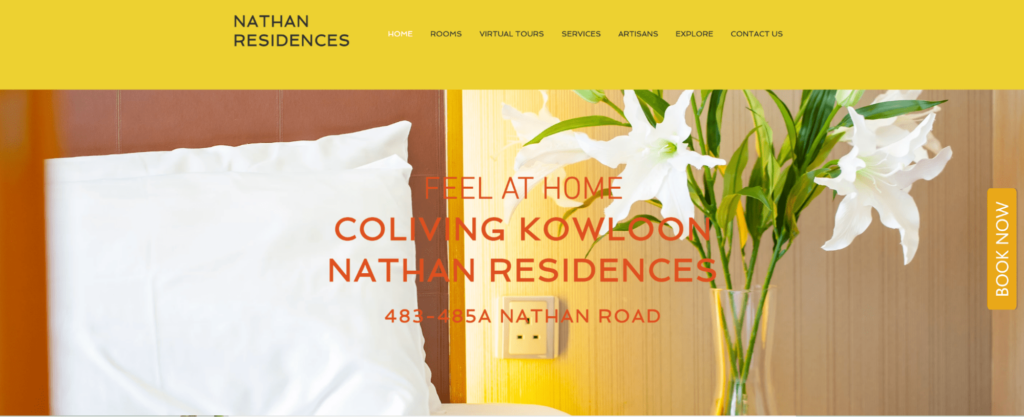 Services/Facilities: Serviced apartments, communal area, self-serve laundry room, laundry and dry cleaning
Website: http://www.nathanresidenceshk.com/
Address: 3/F, 483-485A Nathan Rd, Yau Ma Tei, Hong Kong
Contact details: +852 9313 6680
Rates:
The Suite from HK$13,800 per month
Think Homey from HK$11,800 per month
Think Comfy from HK$10,200 per month
Think Cozy from HK$8,900 per month
Studio Double from HK$7,900 per month
Studio from HK$6,900 per month
| | |
| --- | --- |
| Google reviews score | 5/5 |
| Facebook reviews score | 5/5 |
| Total reviews | 5/5 |
| Score consistency | 5/5 |
| | |
| --- | --- |
| Location | 5/5 |
| Price | 5/5 |
| Facilities | 5/5 |
| Safety | 5/5 |
Best location we've seen in a coliving space
Very friendly and helpful staff
Great room rates and facilities
Can get full quite quickly
Coliving is a new way for people to live in cities with the focus on community and convenience. It's typically a lot cheaper than apartments and hotels, and it offers a more flexible option for
tenants.
First on our list is Nathan Residences Hong Kong, a coliving space in Kowloon that offers 87 coliving apartments in their building.
Tenants have all day access to the communal area where the lounge, reading room, cooking area, and laundry room are at. It's a great space where we get to meet people from different countries.
Their kitchen is well-equipped and has the basic necessities for home cooking, but the building is also located around a lot of nearby restaurants as well as a 24-hr convenience store if we want to go out for a quick bite.
Although the place doesn't have an in-house gym, there's one right across the road. Schools are also just 20 minutes away via commute, making it a really decent location for a coliving space.
Overall, we really like staying at the Nathan Residences. Apart from how it has everything we need in a living space, its convenient location and affordability is really a plus that makes it a good choice for both long- and short-term stays.
2. Oootopia Coliving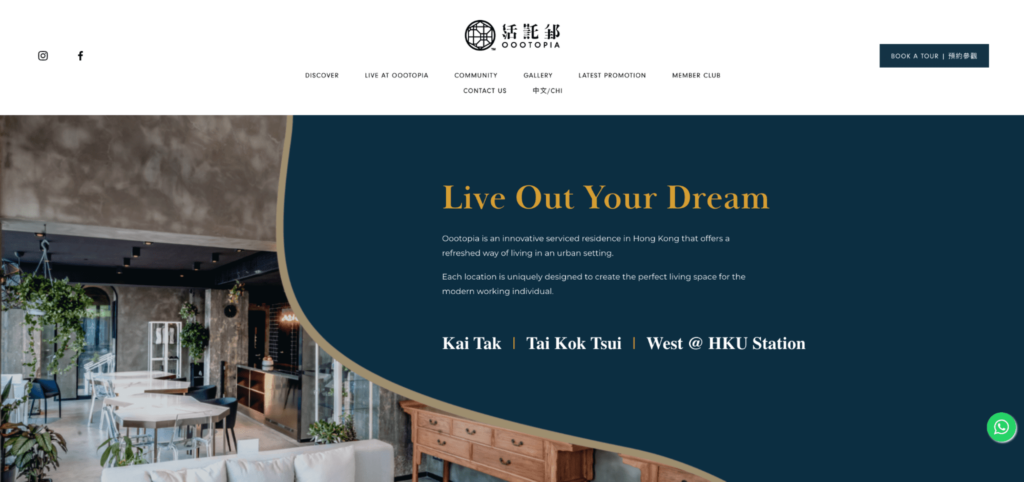 Services/Facilities: Tatami single, loft studio, studio executive, corner suite, room amenities, welcome kits
Website: http://www.oootopia.com/
Address: 8 Anchor St, Tai Kok Tsui, Hong Kong
Contact details: +852 6872 2996
| | |
| --- | --- |
| Google reviews score | 5/5 |
| Facebook reviews score | 4/5 |
| Total reviews | 4/5 |
| Score consistency | 4/5 |
| | |
| --- | --- |
| Location | 4/5 |
| Price | 4/5 |
| Facilities | 5/5 |
| Safety | 5/5 |
Numerous rooms available
Very cosy rooms
Very friendly staff
Oootopia has three locations: Kai Tak, Tai Kok Tsui, and West at KHU. But this time we're taking a look at their Tai Kok Tsui space.
First impression of the whole place gives off a really trendy and chic hipster vibe, which we dig big time.
We can't help but notice how the whole place simply exudes elegance, with all of its modern and high-tech interior.
Their rooms are sleek and have the cosiest beddings, offering a peaceful retreat from the bustling crowds of Mong Kok.
As for the building's location, it's really close to one of Hong Kong's top shopping districts, surrounded by malls like Langham Place and Olympian City along with quirky cafes and restaurants.
It's also worth mentioning that all three locations of Oootopia are just 8 to 10 minutes away from Hong Kong's CBD.
Some have complained about the size of their rooms, with the smallest being 100swm and the largest at 208 sqm. But we think it's understandable given that it is a coliving space and not a hotel.
A lot of their staff are also very friendly and helpful, always attending to our needs to make sure we feel right at home.
Finally, whether it's for just a couple of nights or a month, staying at the Oootopia can definitely help save some bucks if you're on a budget and don't want to splurge nothing.
3. Dash Coliving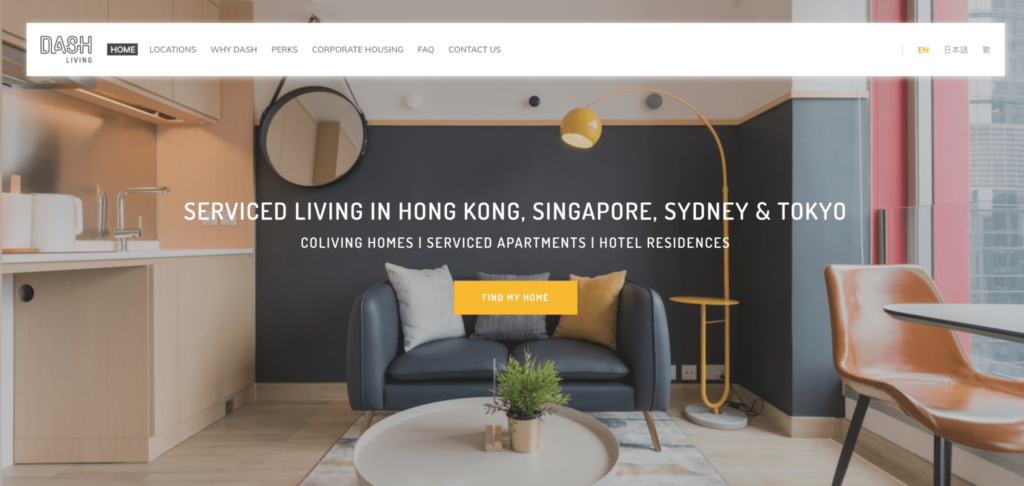 Services/Facilities: Studio suites, one-bedroom suites, gym pass, laundrette, housekeeping and maintenance, in-room kitchenette, Wi-Fi, 24/7 customer service
Website: https://www.dash.co/en/coliving/
Address: 6-9/F, 45-47 Carnarvon Rd, Tsim Sha Tsui, Hong Kong
Contact details: +852 2813 2853
Rates:
Studio Suites from HK$17,000 per month
1-Bedroom from HK$21,000 per month
| | |
| --- | --- |
| Google reviews score | 4/5 |
| Facebook reviews score | 4/5 |
| Total reviews | 4/5 |
| Score consistency | 4/5 |
| | |
| --- | --- |
| Location | 5/5 |
| Price | 5/5 |
| Facilities | 4/5 |
| Safety | 5/5 |
Great location
Newly renovated building
Fully furnished rooms
Amazing customer support 
Minor noise complaints about the communal area 
Next on our list of coliving spaces is Dash Coliving Argyle. Found right at the heart of Kowloon, it has 36 studio and one-bedroom units with full-height windows, designer furniture, and a club with ample outdoor space.
One of its most notable features is its all-inclusive pricing, so this includes the rent, housekeeping and maintenance, utilities, customer service, and laundry, to say the least.
Other than that, there's a whole lot more you can get as their tenant, as it comes with a number of perks, like a 10% discount on Neal's Yard, a $250 discount at Kim Robisnon, and a lot more.
Signing up for a room with them is also pretty and straightforward, and it only takes three steps on their website.
As for their location, we think it's a terrific spot that's really convenient. It's close to the Mong Kok metro station, and there are a lot of good restaurants nearby.
There's also a good wet market that's just a 1-minute walk away from the building, and if you're looking for specific ingredients, there are two supermarkets that have practically anything you need.
In addition, the Langham shopping mall is just a stone's throw away. Dash is definitely a good choice for long-term stays.
4. Weave Studios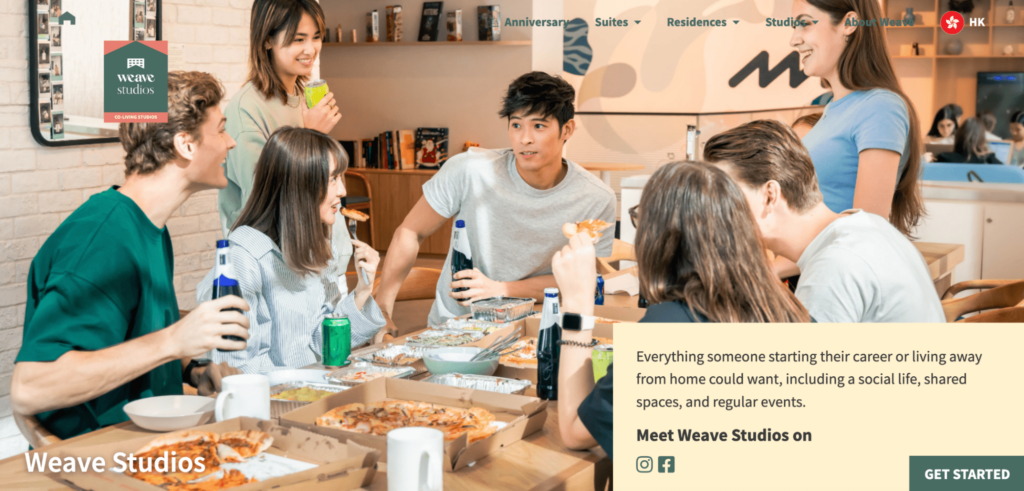 Services/Facilities: Co-living studios that come with a shared living room, Workspace, Kitchen, Gym, Outdoor Space and more
Website: https://www.weave-living.com/en/hk/studios
Address: Prince Edward, Hung Hom, Olympic, Kai Tak, Kowloon West, Sai Ying Pun
Contact details: +852 2155 1400
Rates: From HK$8,640 per month – includes all utilities, Wi-Fi, use of shared spaces and weekly cleaning
| | |
| --- | --- |
| Google reviews score | 5/5 |
| Facebook reviews score | 4/5 |
| Total reviews | 4/5 |
| Score consistency | 4/5 |
| | |
| --- | --- |
| Location | 5/5 |
| Price | 4/5 |
| Facilities | 4/5 |
| Safety | 5/5 |
Flexible leasing terms
Great location
Numerous rooms for availability
Minor complaints about the kitchen getting too crowded sometimes
For another fully furnished, move-in ready coliving space, Weave Studios has all-inclusive rates and flexible leasing terms.
They currently have four locations: Prince Edward, Hung Hom, Olympic, and Kai Tak. We're taking a look at their Prince Edward location for this part.
It has 160 homes and 5 room types: private quad, studio single, studio single plus, studio double, and studio queen.
The place has a fully equipped kitchen and pantry where tenants can whip up meals or just sit idly by and chat with others. We also find it to be a fun communal space.
There's also an in-house laundry and a gym that's complete with new equipment. With all these features set in place, we're digging how we don't have to leave the building to do laundry or work out.
As for its location, Weave Studios Prince Edward is located right next to an MRT station, and there's easy access to City University and Baptist University.
A number of supermarkets, shops, cafes, malls, cake shops, and cultural spots are scattered around the block, with everything just a mere 1- or 2-minute walk away.
One of our favourite features of the building however is the rooftop barbecue, where you can see the Lion Rock.
5. Slash Coliving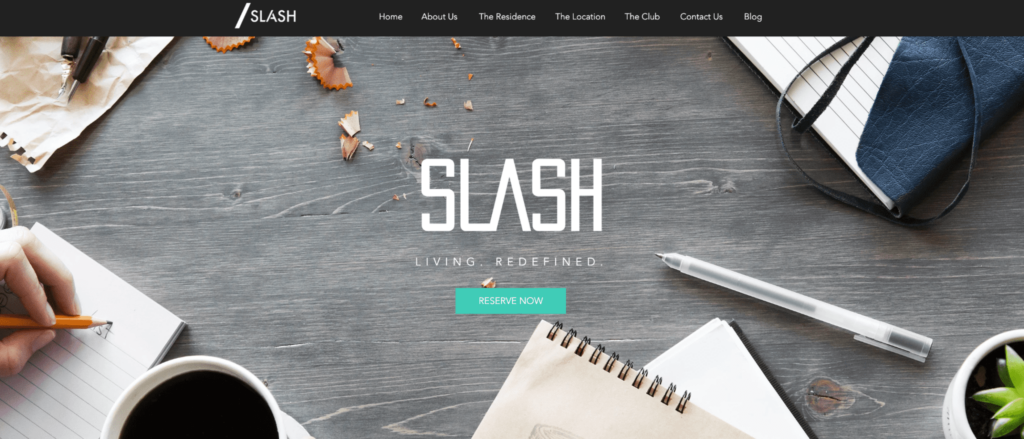 Services/Facilities: Rooms, 24-hr CCTV, utilities, air conditioning, regular cleaning of common area, Wi-Fi, bathroom supplies, mailbox service, keyless entry door locks
Website: https://www.slash-living.com/
Address: 54 Percival St, Causeway Bay, Hong Kong
Contact details: +852 6038 3814
Rates:
Private and shared rooms from HK$6,000 per month
| | |
| --- | --- |
| Google reviews score | 5/5 |
| Facebook reviews score | 5/5 |
| Total reviews | 5/5 |
| Score consistency | 5/5 |
| | |
| --- | --- |
| Location | 5/5 |
| Price | 5/5 |
| Facilities | 5/5 |
| Safety | 5/5 |
Affordable prices
Friendly staff and tenants
Fun community activities
Only have a few rooms available
It can get quite difficult to get a room 
Slash Living is a startup company that combines living, sharing, and community particularly for students and young professionals.
True to their goal of creating a space where individuals can connect in a number of ways, their common spaces include a reading and gaming area, a fully equipped pantry, a spacious balcony, and more.
Slash Living has both private and shared rooms available, equipped with 24/7 CCTV, regular cleaning, and high-speed WiFi.
It's definitely a more affordable option compared to other coliving spaces, with rents starting at HK$6,000 per month, making it a good option for students.
Their rooms are all fully furnished with cosy beds and linens, personal desk and chair, and some even come with their own private balcony.
We'd say their rooms are quite decent in size, especially given its price. Both private and shared rooms have ample space for each tenant.
Location-wise, it's right at the heart of Causeway Bay, surrounded by restaurants, entertainment venues, and a number of shopping malls.
We love everything about Slash Living, but our favourite is definitely the regular gatherings that they hold in the building as a way to keep people connected.
All in all, it;s a fun and affordable place for both short- and long-term stays, complete with amenities and facilities that make living there a really comfortable experience.
FAQs about coliving spaces